Posted on
Wed, Sep 12, 2012 : 9:27 a.m.
Avocado, Corn and Mango Salad celebrating the last of this season's corn
By Jessica Webster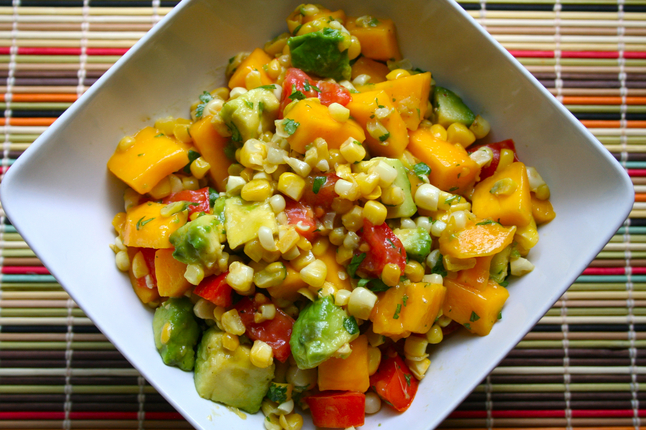 Jessica Webster | AnnArbor.com
Despite all of the dire predictions about this year's corn crop, I've been seeing fresh corn in the markets for far longer than I expected. While I'm guessing that we'll see the full impact of this summer's widespread drought reflected in next year's food prices, I'm happy to enjoy what we've got while we've got it.
With that in mind, I've been having a ball in the kitchen, experimenting with corn and tomatoes in various combinations. A few weeks ago, I shared a corn chowder recipe that I've made for several gatherings. I'm still making that nearly every week.
When I'm cooking for me, though — for a weekend lunch or a quick dinner — I keep coming back to this combination of fruits and… whatever corn is… Grain? Vegetable? We'll just be safe and say "corn."
The recipe is so simple it's nearly foolproof. Just make sure you're working with ripe fruit and that your corn is fresh. Don't buy corn that's pre-shucked — the kernels start to dry out the minute the husk is removed. You'll also want to make sure not to overcook the corn, as it starts to get a little bit chewy if it's over the heat for too long.
This beautiful combination of savory and sweet is delicious on its own. The heat of the buttery corn starts to soften the avocado, creating a creamy foil to the crunch of the corn. The tartness of the lime balances out the sweetness of the mango. I can't get enough of it.
My favorite use for this salad, though, is as a topping for quesadillas or nachos. Instead of heavy beans and sour cream, the corn, avocado and mango salad lends a tropical flavor to the meal. It's especially good if you can get your hands on some coconut Gouda, sometimes available at Morgan & York on Packard in Ann Arbor.
Though I believe that corn and butter go together like Abbott & Costello or Dr. Dre and Eminem, I do reluctantly acknowledge that some people would prefer to avoid dairy. I can attest, then, that this recipe is nearly as delicious with some olive oil in place of the butter.
Note: I've included cilantro in this recipe because I love the herb, but I've made it without and the salad hasn't suffered. If you're a cilantro hater, just omit it and enjoy.
Avocado, Corn and Mango Salad
1 tablespoon butter or olive oil
Kernels from 3-4 ears of corn
2 Roma tomatoes (or one large tomato), cored and diced
1 mango, peeled and diced
1 avocado, diced
The juice of one lime
2 tablespoons chopped cilantro
Salt and pepper to taste
Serves 4 as a side.
Melt the butter in a medium skillet over medium-high heat. Add the corn kernels and cook, stirring regularly, for 5-7 minutes, until the corn is tender.
Turn the corn into a large bowl. Add the diced mango, avocado and tomato. Toss with lime juice and chopped cilantro, and season with salt and pepper.
Serve as a side salad, with quesadillas or as a nacho topping.
Jessica Webster heads up the AnnArbor.com Food & Grocery section. You can reach her at JessicaWebster@AnnArbor.com or follow her on Twitter.