Posted on
Thu, Nov 10, 2011 : 8 a.m.
Bacon parmesan popcorn satisfies a craving for salty, crunchy snacks
By Mary Bilyeu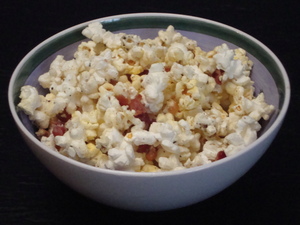 Mary Bilyeu, Contributor
Popcorn is the official state snack food of Illinois. I'm not much of a popcorn fan — I can eat it, but don't really care if I ever do. However, I know I'm in a distinct minority with regard to my lack of affection for this treat.
Michigan will be playing Illinois this Saturday, so it only seemed appropriate to feature popcorn in today's post. But I had to glam it up a bit. I debated whether to make a sweet or savory version, or whether to make cute little football-shaped popcorn balls.
And then I had an epiphany.
I'm offering something completely fabulous which features an utter lack of redeeming nutritional value (which is, of course, why it's so fabulous!). Even though I can usually live without popcorn, I think I could actually start craving this.
Today's recipe is for Bacon-Parmesan Popcorn.
Yup — salty, crunchy, cheesy, and with bacon. Supreme snack food!
This is ideal for tailgating or for watching the game at home. It's a great treat for any occasion, from watching the Oscars to watching a movie. Truly, how can you go wrong with anything that has bacon?
Pass the popcorn, please ....
Bacon-Parmesan Popcorn
1 3-ounce packet low-sodium microwaveable popcorn
4 strips low-sodium bacon
1 tablespoon extra-virgin olive oil
3/4 teaspoon all-purpose seasoning (i.e.: Mrs. Dash)
1/3 cup very finely grated Parmesan cheese
Prepare popcorn according to package directions, then place into a large mixing bowl.
Meanwhile, place bacon into a large skillet and cook, turning occasionally, until very crisp. Remove bacon from skillet and crumble; reserve the bacon fat.
Add oil and crumbled bacon to the bacon fat; pour over the popcorn and toss to combine. Sprinkle seasoning and Parmesan over the popcorn, and toss to combine well.
Makes approximately 8 cups of popcorn.

Starting next Thursday, November 17, I'm going to have "office hours" (to use university lingo) on Thursdays from 4 - 5 p.m. in the AnnArbor.com Community Space. Stop by, chitchat, schmooze, ask questions, have a cup of coffee, tell me what you're planning to make for dinner ... just come say "hi!"

Mary Bilyeu has won or placed in more than 60 cooking contests and writes about her adventures in the kitchen. She was thrilled to have her post about Scottish Oatmeal Shortbread named as one of the daily "Best of the Blogs" by the prestigious Food News Journal.
Go visit Mary's blog — Food Floozie — on which she enthuses and effuses over all things food-related. Her newest feature is Frugal Floozie Friday, seeking fun and food for $5 or less ... really! Feel free to email her with questions or comments or suggestions: yentamary@gmail.com.
The phrase "You Should Only Be Happy" (written in Hebrew on the stone pictured in this post) comes from Deuteronomy 16:15 and is a wish for all her readers as they cook along with her ... may you always be happy here.