Posted on
Tue, Jun 4, 2013 : 8 a.m.
Baconfest Michigan 2013 - Royal Oak event celebrates all things pig
By Mary Bilyeu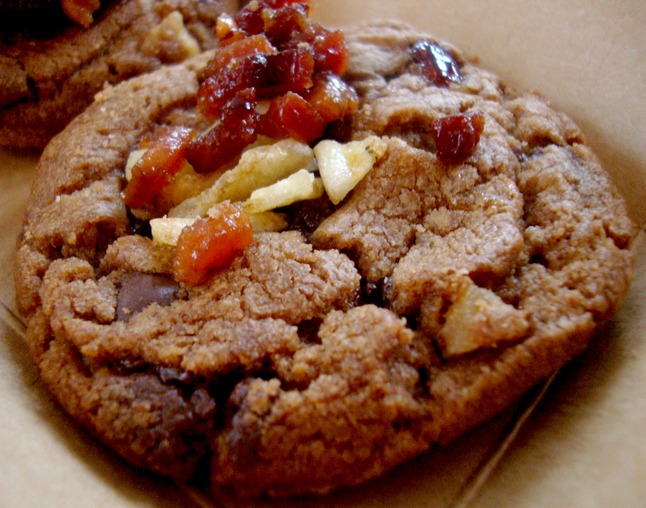 Mary Bilyeu | Contributor
Saturday was apparently "Bacon Day" in the state of Michigan.
Zingerman's
held its famous
Camp Bacon
, which I'd have been thrilled to attend if I hadn't already made other plans. And then
Baconfest Michigan 2013
took over with its own pig party in Royal Oak that evening. Craig noted that, had I been able to get to both events, "That's a whole lotta bacon in one day!" He's still learning. I would absolutely have tried everything, everywhere!
But, alas, I was only able to indulge in one of the feasts that day.
Baconfest is a giddy, loud, crowded, and utterly irresistible celebration of everything that one can possibly make with bacon: sandwiches, nachos, doughnuts, cookies, salads, drinks ... the array is mind-boggling. It served as a fundraiser for Gilda's Club of Metro Detroit and for The Royal Oak Film Society.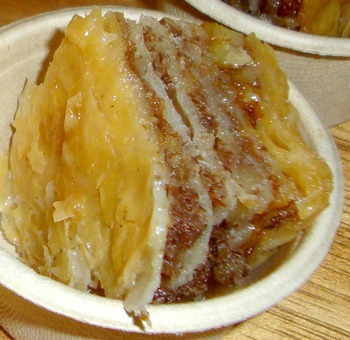 Mary Bilyeu | Contributor
Ann Arbor's own
The Produce Station
represented us beautifully with a creation that was absolutely inspired — truly, a vision of brilliance. Executive Chef Steven Grostick brought baklava. But not just any ol' baklava, with walnuts and honey. He served Bacon, Pecan and Apricot Baklava. This wasn't indulgent enough, however, so let me tell you the dessert's secret ingredient: instead of brushing the phyllo dough with oil or with butter — anyone can do that! — the dough was brushed with bacon fat ... gasp!
There was an astounding quantity of food from a variety of restaurants and chefs throughout the extended Detroit area, and there were so many imaginative ways of putting bacon — such a thing of beauty all on its own — to even better advantage. Sometimes the bacon was the star of the show, sometimes it was an accent or an enhancement. Sometimes it lent itself to the classic sweet-salty taste sensation, sometimes it offered crunch and texture.
Mary Bilyeu | Contributor
Craig and I sampled a supremely luscious Bacon-Topped Butterscotch Pudding and a Potato and Goat Cheese Gratin from Cafe Muse ... tender Cajun BLTs and intensely rich Maple Doughnuts with Bacon from Lily's Seafood ... Bacon-Bourbon and decadent Peanut Butter, Bacon and Nutella ice creams from Treat Dreams ... sweet-tart German Potato Salad with Bacon from Sub Sonic ... spicy Bacon-Wrapped Boneless Chicken Wings from Hamlin Pubs ... light, airy, perfect Bacon Marshmallows from The Henry Ford (and let me just note here, with great respect, that there were thunderstorms on Saturday; humidity is the sworn enemy of handmade marshmallows, and yet these were still lovely) ... Bacon Beignets with Maple Whipped Cream from Gastronomy ... "The Bacon Made Me Do It," a creamy macaroni and cheese with bacon, tomatoes, and scallions from The Mac Shack ... Pork Belly Banh Mi from One-Eyed Betty's ... a Pastrami-Bacon Reuben from TAP @ The MGM Grand Detroit ... and Cheddar-Scallion Biscuits with Housemade Bacon Jam from Vinsetta Garage ... sigh.

And then there was my favorite, pictured at the top of this post — The Fat Elvis Cookie from Dino's Lounge: peanut butter and banana cookies with chocolate chips, frosted with strawberry jam and sprinkled with candied bacon. There are no words adequate to the challenge of describing how seductive this was!

Next year, I have to be sure to attend Camp Bacon, a combination of fabulous food and education. Until then, I'll likely still be oozing treyf ([trayf] = foods that are not kosher) until I can get to that fix.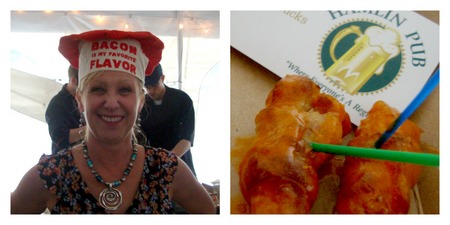 Mary Bilyeu | Contributor

Mary Bilyeu - a self-proclaimed Food Floozie (named for her blog, which is taking a summer vacation) - writes for AnnArbor.com on Tuesdays, Wednesdays, and Fridays, telling about her adventures in the kitchen ... whatever strikes her fancy. She is also on a mission to find great deals for her Frugal Floozie Friday posts, seeking fabulous food at restaurants on the limited budget of only $5 per person. Feel free to email her with questions, comments, or suggestions: yentamary@gmail.com.

The phrase "You Should Only Be Happy" (written in Hebrew on the stone pictured in this post) comes from Deuteronomy 16:15 and is a wish for all her readers - when you come to visit here, may you always be happy.