Posted on
Wed, Jun 6, 2012 : 8 a.m.
Swooning over swine plus trying vegan 'Smokonut' add up to Baconfest Michigan
By Mary Bilyeu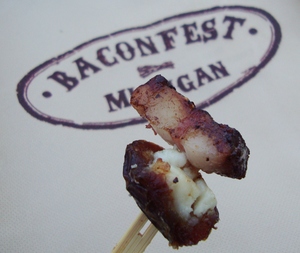 Mary Bilyeu | Contributor
Baconfest Michigan. Oh, man, what beautiful words! Jeremy and I had too much fun attending the gala event this past Saturday, swooning over swine.
Baconfest was held in Royal Oak, and its 30 stations showcased everything — literally — from soup to nuts, from sweets to savories, from sophisticated hors d'oeuvres to comfort food, and even a variety of drinks. Let me start with the two Ann Arbor stations, and then take you on a brief tour of some other offerings.
Grange Kitchen and Bar — a lovely and elegant restaurant dedicated to local sourcing and sustainability - offered two fabulous treats.
One of my very favorite items from the entire evening was the Spicy Bacon, Bleu Cheese and Date bites pictured above — three of my most beloved foods all on one skewer. These were being cooked right at the station, so the enticing aroma immediately enveloped us as we watched them sizzle. And the tidbits offered the most amazing taste and texture sensations: the deep sweetness and chewiness of the dates, the pungence of the slightly melted creamy cheese, the crisp exterior of the bacon complementing the softness and richness of the fattier underside ... sigh.
There were also Bacon Jam and Goat Cheese Toasts, which featured delicious contrasts of their own — mild yet luscious, silky smooth cheese complementing the sweet, smoky crisp-chewy bacon.
Seva was definitely the most unusual vendor at Baconfest - it's a vegetarian restaurant, after all. What could they possibly have to offer at this pig party ... hmm? Something creative, that's what! Smokonut - smoked coconut, a vegan "bacon."
And you know what? It was surprisingly good! (I'll admit I was a bit leery.) We didn't get to try the sandwiches with Smokonut, green tomato jam, field greens, and vegan aioli on wheat bread (though my buddy Joe Hakim, of The Hungry Dudes, was incredibly enthusiastic about them); they'd already run out by the time we worked our way through the crowds. But we did get to enjoy the dates stuffed with Smokonut and rolled in cashews - these were so good! Sweet, salty, slightly smoky ... sensational treats!
Jeremy and I also made sure to visit the stations of our Ann Arbor neighbors, Zin Wine Bar from Plymouth and Terry B's Restaurant and Bar in Dexter.
Zin offered elegant Bacon-Stuffed Squash Blossoms with Black Garlic and a Spring Tomato Sauce. These were crisp and chewy, vibrant and wonderful! Each of the flavors shone, and yet they complemented each other perfectly without any one item overpowering the others. A true testament to the quality of these lovely bites is that the sauce enhanced them, but it was also an extra — the fried tidbits were so very good just on their own, with such simple but well-chosen ingredients.
Terry B's served a rich, creamy Sweet Corn and Bacon Bisque — a fabulous soup that looked so invitingly gorgeous, too. Not only was this a nice, light alternative to the many decadent and intensely-bacony options; but it demonstrated with elegance how a simple dish can be accented with even a small addition of a key item. The colors of this soup caught our attention, but the flavors — each bite offering a different mix — were absolutely seductive.
A few more of our favorite treats were the hand-dipped Bacon Caramel Apples served by The Root Restaurant and Bar in White Lake; the Plantain Fried in Bacon with mustard maple panchetta from Green Dot Stables in Detroit; the Pork Belly Slider with pickled red onion, bacon jam, and grainy mustard offered by Cork Wine Pub in Pleasant Ridge; and The Baconfest Panini created by The Panini Press in Berkley, which combined bacon, turkey, cheddar cheese, tomatoes and bacon mayonnaise on ciabatta.
Baconfest was a fabulous opportunity to learn about amazing new restaurants and places to eat beyond the limits of Ann Arbor's own exceptional cuisine.
Frankly, there was only one item — out of 30 stations, many of which offered more than one taste treat — that Jeremy and I didn't like... that's an exceptional success rate. There was such an astounding display of creativity and innovation, taking the familiar star ingredient — bacon — and transforming it into so many flavor variations!
I could rave on and on about how much fun Jeremy and I had, how fabulous it was to smell bacon as soon as we got out of the car before walking in to the event, how happy everyone was to be enjoying such great food, and what a sensational party this was. So if you'd like to see more of our adventure at Baconfest, go to my blog: Food Floozie. If nothing else, Jeremy's favorite picture is there: my reaction to tasting a beer whose rim had been coated with a mix of sugar, cayenne and ghost pepper seasoned salt. (Ghost peppers are the hottest ones on record, just so you know.)
These photos and memories will have to sustain us all until next year's feast, which I will anticipate with giddy glee!

Mary Bilyeu
writes about her adventures in the kitchen - making dinner, celebrating holidays, entering cooking contests ... whatever strikes her fancy. She is also on a mission to find great deals for her Frugal Floozie Friday posts, seeking fabulous food at restaurants on the limited budget of only $5 per person. Feel free to email her with questions or comments or suggestions:
yentamary@gmail.com
.
You should visit Mary's blog — Food Floozie — on which she enthuses and effuses over all things food-related. And be sure to look for her monthly articles about holiday foods and traditions in the Washtenaw Jewish News.
The phrase "You Should Only Be Happy" (written in Hebrew on the stone pictured in this post) comes from Deuteronomy 16:15 and is a wish for all her readers - when you come to visit here, may you always be happy.