Posted on
Thu, Nov 10, 2011 : 2:30 p.m.
Baked Apples stuffed with Orange-Scented Sweet Potatoes a colorful sidedish fit for Thanksgiving
By Peggy Lampman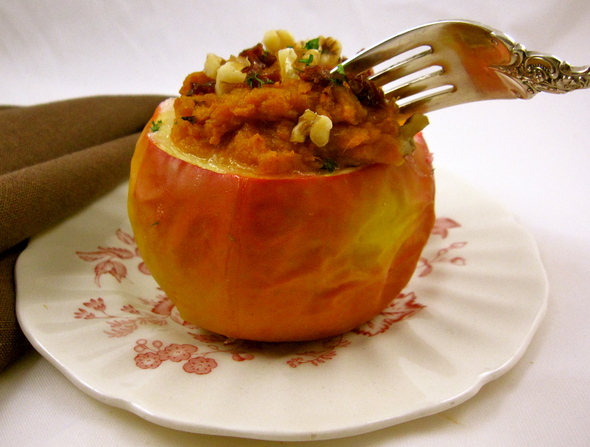 Peggy Lampman | Contributor

Peggy Lampman's Thursday dinnerFeed
Life is complex; these days, more so than ever. Planning my family's Thanksgiving dinner provides an escape hatch, if only for a moment. I can contemplate menu challenges instead of what course America should take to balance the budget.
For instance, my husband, Richard, wants mashed sweet potatoes and the kids want yukon golds. Two potatoes are redundant, so I take the kids' side. I'm already making gravy for the turkey, and gravy tasted great with the standard white mashers. Sweet potatoes and gravy? Unh-uh. We'll go with the white; take one for the team.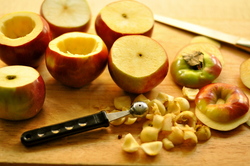 He's not one to suffer defeat lightly. He then requested baked apples — his mother always made them on Thanksgiving. He quoted me saying that a festive fall menu that didn't include local apples was a gross omission. Using my words to get his way is dirty politics. Sorry, I'm in control of this operation, bud. I have enough on my plate, so to speak.
And then I remembered. Richard washes all of the dishes; every last one of them. What if he decides that's too many plates, so to speak. He could go on strike, stretch out on the couch, and watch football. Panic set in; time to get creative.
If I dressed up the sweet potatoes, and housed them in a baked apple, it would be completely different than a mound of mashed potatoes. Furthermore, it would decorate the Thanksgiving plate with colors of burnt orange and reds. Richard's also a nutrition junkie — even, sadly, on holidays.
So I made a test batch keeping the fat to a minimum. They were delicious, and the flavors of apple, sweet potatoes and orange will be a lively foil for the expected flavors of turkey, gravy and stuffing.
The gift to me was discovering the little gems may be made a day in advance. Partially bake them, cover, and refrigerate. Prior to serving, put them back into the oven and cook until tender.
This Thanksgiving my family compromised, coming up with a plan that will make everyone happy. If our government could be as creative and conciliatory, maybe something could get done about the deficit and job crisis. But, in the meantime, should I bake pumpkin or cherry pie?
Tips on making ahead: Pre-bake 15 minutes, cover and refrigerate, up to 24 hours, in advance. Before dinner, put them into a pre-heated oven and bake until re-heated and tender, paying attention not to overcook them.
Time to bake sweet potatoes: 45-60 minutes
Active Time: 30 minutes
Bake Time: 20-30 minutes
Ingredients:
2 large sweet potatoes* (3 pounds)
1 tablespoon orange zest, finely chopped and 1/4 cup of orange juice
1 tablespoon walnut oil or melted butter
3 tablespoons dried chopped cranberries or cherries, plus extra for garnish
3 tablespoon walnuts, toasted and coarsely chopped, plus extra for garnish
1/2 teaspoon cinnamon
Pinch of cayennne
1-3 tablespoons light brown sugar plus 3 teaspoons
6 large baking apples, such as Macintosh or Empire
Juice from 1/2 lemon

*Canned sweet potatoes may be substituted for fresh.


Directions:

1. Preheat oven to 350 degrees.

2. Bake sweet potatoes on middle rack until they can be easily pricked with a fork. When cool enough to handle, peel away skin, remove and discard dark discolored parts, then mash until pureed with a fork or potato masher.

3. Stir in zest, orange juice, walnut oil or melted butter, 3 tablespoons dried cranberries or cherries, 3 tablespoon walnuts, cinnamon, cayenne and 1 tablespoon of sugar. Season to taste with additional sugar and kosher salt. Reserve.

4. With a sharp knife, slice off top of apple, 1/4-inch down from stem. With a paring knife or mellon baller, core apple to a 1-inch depth, removing more of the center stem and seeds. Combine 3 teaspoons sugar with lemon juice and brush over cored apples to sweeten slightly and keep from browning. Place apples in a lightly-oiled, foil-lined, oven-safe baking dish; mound with the sweet potato mixture.

5. Bake on middle rack of oven 20-30 minutes, depending on the size of your apples. Apples should be just tender when pricked with a fork; they will fall apart if overcooked. Garnish with chopped walnuts and dried fruit.



My new web site (packed with holiday recipes) is coming soon! But in the meantime, If you're looking for a specific recipe, click here for dinnerFeed's recipe search engine; type the recipe or ingredient into the search box. I am a real-time food writer and photographer posting daily feeds on my website and in the Food & Drink section of Annarbor.com. You may also e-mail me at peggy@dinnerfeed.com.