peggy lampman's tuesday dinnerfeed
recipe:

Baked Teriyaki Halibut with Bok Choy

Posted on Tue, May 24, 2011 : 4:02 a.m.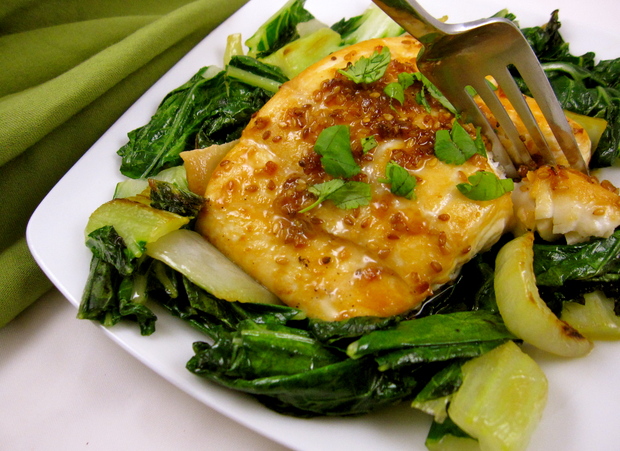 Peggy Lampman | Contributor

Shopping at Whole Foods, I noticed the halibut in their fish counter looked particularly enticing. The clerk told me it had just arrived. The price tag said "on sale" so I snatched a piece.

It's still a pricey fish, even on sale, so why would I compromise the natural flavors by marinating such a lovely specimen? Wouldn't I simply want to savor the flavor with just a bit of acidity and dill? Perhaps...but I have a head of bok choy and partial bottle of Soy Vay Teriyaki Island marinade begging to be released from refrigerated bondage.

This marinade is not as intense as many bottled Asian brands, so I knew it wouldn't totally obliterate the flavor. I also like the plethora of sesame seeds in the time-saving mix. I always prefer homemade, however, and a great substitute would be freshly grated ginger, minced garlic, rice wine vinegar, soy sauce and sesame or peanut oil.

Yield: 2-3 servings

Ingredients

1 pound piece halibut fillet (my piece was 1-inch thick)
3-4 tablespoons your favorite Asian marinade (I used Soy Vay Veri Teriyaki)
1 head bok choy, cut into 1-inch pieces, greens leaves separated from stem
1 1/2 tablespoons peanut or sesame oil
1-2 teaspoons fresh chopped cilantro

Directions

1. Marinate fish, flesh-side down, 30 minutes.
2. Preheat oven to 450 degrees.
3. Place marinated fish on a lightly oiled, foil-lined baking sheet, spooning excess marinade over fish. Bake on middle rack of oven about 10-12 minutes or until fish flakes easily with a fork.
4. While fish is baking, heat peanut oil over medium-high heat. Cook white stem pieces with a pinch of kosher salt about 2 minutes or until just beginning to brown. Add remaining greens and cook until greens are just limp. Serve baked fish with greens.

Looking for a specific recipe? Click here for dinnerFeed's recipe search engine; type the recipe or ingredient into the search box. I am a real-time food writer and photographer posting daily feeds on my website and in the Food & Drink section of Annarbor.com. You may also e-mail me at peggy@dinnerfeed.com.