Posted on
Wed, Aug 29, 2012 : 8 a.m.
Baked tomatoes with lemon-matzah crumbs - eat it as a light lunch or a side dish
By Mary Bilyeu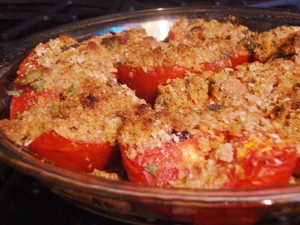 Mary Bilyeu | Contributor
Jeremy and his dad have many tomato plants in their back yard, so they've been generous in sharing the bounty with me. And my friend Rebecca had given me some whole wheat matzah, knowing I would find a good use for it since I cook so often.
Matzah — it isn't just for Passover anymore! It worked beautifully in this recipe, ground to make a lovely topping for baked tomatoes. The whole wheat variety offers not only more nutrition than standard matzah, but also a lovely toasted, nutty flavor.
I also added some ground lemon pizzelle cookies, though any simple lemon cookie (with no icing) would work equally well. Their sweetness, combined with fresh lemon zest, definitely added brightness to the dish.
Served as a side dish, these baked tomatoes would complement virtually any entree. But they even made a fabulous light lunch, along with a salad. They could be chopped and served over pasta, or stuffed into a sandwich.
Simple to make, fabulous to eat!
Baked Tomatoes with Lemon-Matzah Crumbs
6 ripe medium-sized tomatoes, halved
kosher salt and pepper, to taste
1 square whole wheat matzah, ground
1/4 cup lemon cookie crumbs
finely grated zest of 1 lemon
few springs of fresh parsley, chopped
1/3 cup extra-virgin olive oil
Preheat oven to 400 degrees. Place tomatoes into a 9-inch glass pie pan. Sprinkle with salt and pepper.
In a small bowl, combine matzah and cookie crumbs, lemon zest, and parsley; sprinkle over tomatoes. Drizzle oil over the top.
Bake for 30 minutes, until tomatoes are softened and topping is golden. Serve warm or at room temperature.
Serves 6 as a side dish.

Mary Bilyeu writes for AnnArbor.com on Tuesdays, Wednesdays, and Fridays, telling about her adventures in the kitchen - making dinner, celebrating holidays, entering cooking contests, meeting new friends ... whatever strikes her fancy. She is also on a mission to find great deals for her Frugal Floozie Friday posts, seeking fabulous food at restaurants on the limited budget of only $5 per person. Feel free to email her with questions, comments, or suggestions: yentamary@gmail.com. Go visit Mary's blog — Food Floozie — where she enthuses and effuses over all things food-related; and look for her monthly articles in the Washtenaw Jewish News. "Like" her on Facebook, or send a tweet on Twitter, too. The phrase "You Should Only Be Happy" (written in Hebrew on the stone pictured in this post) comes from Deuteronomy 16:15 and is a wish for all her readers - when you come to visit here, may you always be happy.