Posted on
Thu, Mar 22, 2012 : 11:20 a.m.
Baked Turnips stuffed with Spinach, Blue Cheese and Mushrooms might make you reconsider this root vegetable
By Peggy Lampman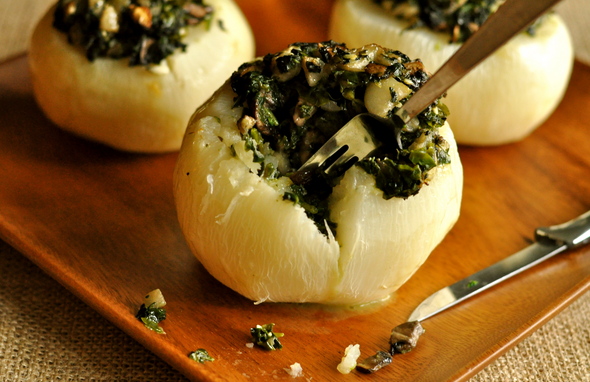 Peggy Lampman | Contributor

mean fighting machine!
Michigan in March with temperatures close to 80 — say what?! I haven't had a chance to wear my cute furry boots — where are my shorts? The grass is green, and flowers are blooming — should I be planting lettuce? I'm sure not complaining, but something's not jiving.
The forecast says spring but my mindset's in winter, as are the produce bins in local groceries; alas, local vegetables haven't caught up with the weather. And there are wintry recipes unsung; hot soups to be made, slow braises to be simmered. But before I fling open my windows and fire up the grill, I present to you a swan song for root vegetables — winter's steadfast nourishment — an ode to the turnip.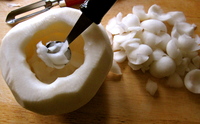 Outside of the American South, turnips are often snubbed and forgotten, much like a distant cousin you regret is blood kin. In literature, similes are drawn casting a disparaging shadow on characters with, for example, "...a bulbous nose, with purplish broken vessels resembling a turnip." And if you do cook them, reluctant, with greens or in a soup, the smells could be reminiscent of bad hangovers and hardscrabble times.
But not so in France, where their peppery flavor and piquant aroma are relished in a variety of ways. I, too, adore the bittersweet flavor of turnips. So indulge me as I pause between winter and spring, to stuff the turnip with spinach, blue cheese and walnuts, giving her the star status she so desperately seeks, so richly deserves.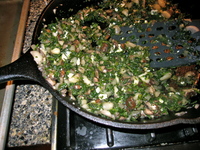 A favorite recipe site of mine, Citron et Vanille, is authored by Silvia, an inventive chef from France, who writes that she serves them roasted, braised and steamed with lavender salt, or stuffed in a myriad of ways.
I saw this recipe on her site and couldn't resist trying it. In her recipe she chose smaller turnips, which are sweeter and less bitter than her big sisters that I selected. But I've always been one who appreciates the taciturn dinner guest, a person who injects irony, balancing humor, into the conversation.
Still haven't convinced you to give turnips another try? She's okay with that, having developed a thick skin through centuries of being an outcast. Substitute the turnip with an onion or beet, and you'll still have a fine meal.
This recipe was inspired by a recipe for Turnips stuffed with Roquefort and Walnuts on the website, Citron et Vanille. In my rendition I substituted Gorgonzola for Roquefort, omitted the chopped onions and used 3 large turnips instead of 6 medium-sized.
Yield: 3 large or 6 medium-sized baked turnips
Active Time: 35 minutes
Bake Time: 25 minutes
Ingredients
3 large or 6 small to medium-sized turnips, (about 3 pounds)
1 tablespoon olive oil
6-7 baby bella mushrooms, washed and finely chopped
1 cup cooked spinach, all water squeezed out and chopped*
1 heaping teaspoon minced garlic
3 tablespoons crumbled Roquefort, Gorgonzola, or Stilton, crumbled
2 tablespoons walnuts, chopped
3 thin pats of unsalted butter
Instructions
1. Preheat oven to 375 degrees.
2. Trim bottom of turnips so they sit flat without rolling, and cut about 1-2 inches of root end off. Peel turnips. To make a cavity in turnip, with a melon baller, dig out turnip to a depth of 2 inches. Chop turnip finely and set aside.
3 . Bring a large pot of well-salted water to a rolling boil. Place turnips in pot and boil 10 minutes, or until just tender; do not overcook. Drain and reserve.
4. Meanwhile, heat olive oil in a large sauté pan over medium heat, sauté reserved chopped turnips and mushrooms with a pinch of kosher salt until tender, about 10 minutes, then stir in spinach and garlic; cook an additional 5 minutes. Remove from heat and stir in cheese and walnuts. Season to taste with kosher salt and freshly ground pepper.
5. Stuff the turnips with mixture. Bake on center rack of oven 15 minutes. Remove and rub butter pat around turnip and on top of spinach mixture; return to oven for an additional 10 minutes.
*I microwaved 3 cups of chopped, frozen spinach with a bit of water until tender. Then, I pressed the spinach into a fine-mesh colander removing as much liquid as possible, which yielded about 1 cup, chopped fine.