WEEK 56
A CAKE A WEEK:

Baker bittersweet about end of cake project

Posted on Tue, Feb 8, 2011 : 9:57 a.m.
Erin Mann is baking a new cake every week for a year from the "All Cakes Considered" cookbook and shares her adventures here on AnnArbor.com. Read past columns here.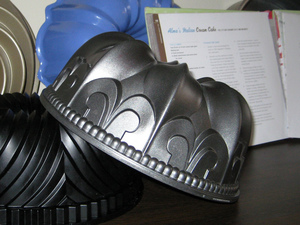 Erin Mann | Contributor

In January of 2010, I introduced my cake project to an audience. I knew that I liked cake (eating it) and that I wanted to learn to bake. I was publicly committing to the tasks of baking a cake and writing about it every week for one year. Would people be interested in the project? Would I uphold my commitment?

My cake project with "All Cakes Considered" started out as a fun way to learn something new, but quickly became one of the most interesting challenges of the recent years of my life. My college years were dynamic (as college tends to be), but after graduation, life slowed down dramatically. I'd settled into a routine, as many post-grad 20-somethings do, that involved a full-time job, paying bills and keeping up with household chores.

The cake project gave me a fresh routine. I had something new to work on each week; a bunch of mini-projects within one larger goal. My baking sessions (more often than not) made me feel peaceful — they fed my soul as well as my belly. I found a hobby I really enjoy. I have to work at it, just like anything else, but I never feel discouraged by baking. If a recipe doesn't work out, it's all right; I dust the flour off my apron and figure out what went wrong.

"All Cakes Considered" ignited my passion for baking. I have bittersweet feelings about finishing the cake project. I'll miss my weekly cake-baking ritual — and goodness knows my friends and roommates who've reaped the benefits of my cake-baking will, too! After baking all 55 recipes from the book, I realize I still have so much to learn about baking. My new endeavor, Baking Bachelorette, is all about exploring the many facets of baking and dessert-making that interest me. I'll be learning to bake bread, dabbling in pastry, making ice cream and trying to re-create favorite desserts I've tasted in my various travels.

And finally, to my readers, thank you for your readership and support over the last year. I appreciate your comments and have enjoyed the emails I've received full of kind words, baking tips and recipes. I hope you'll continue to follow me on my new baking journey. See you soon.