Posted on
Tue, May 7, 2013 : 4 p.m.
Banana coconut bars are tender inside, with crunchy topping
By Mary Bilyeu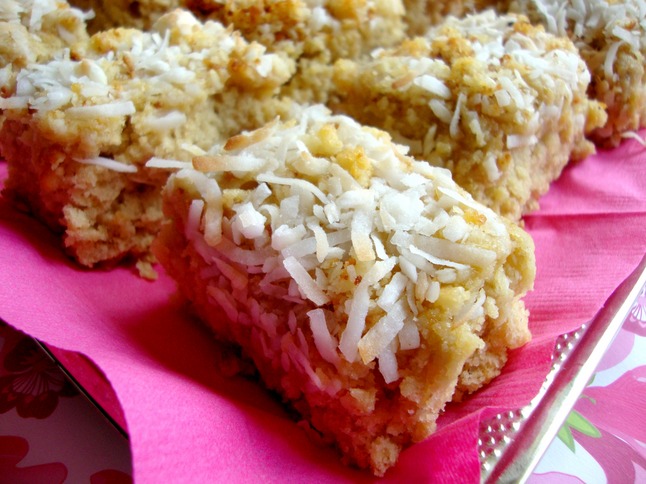 Mary Bilyeu | Contributor
I found myself with a few lunchbox-sized containers of applesauce, very ripe bananas, and some leftover almond macaroons from Passover. These ingredients weren't quite exotic enough to qualify for a "
Chopped
" dessert round, but I still needed to find something to do with them.
So, I baked them into a moist, delicious, dessert bar.
The bars are tender and cake-like, but with a crunchy topping; those "Chopped" judges are always looking for contrasting textures, after all. These are reminiscent of banana bread, but lighter and a nice variation on the theme.
That's the beautiful thing about baking: the end result is always greater than the sum of its humble parts.
Banana Coconut Bars
1/2 cup margarine, softened
2/3 cup applesauce
1/2 cup sugar
3/4 cup brown sugar
2 eggs
2 large bananas, mashed
2 cups unbleached flour
1 cup quick-cook oats
1-1/2 teaspoons aluminum-free baking powder
3/4 teaspoon kosher salt
6 almond macaroons, crumbled
1/2 cup shredded coconut
Preheat oven to 350 degrees. Grease a 9x13-inch baking pan.
In a large mixing bowl, combine margarine, applesauce, sugar, brown sugar, and eggs; beat with an electric mixer on "high" for 1 minute. Add bananas and beat for 1 more minute. Beat in flour, oats, baking powder, and salt until just combined. Spread batter into prepared pan.
Sprinkle the macaroons and the coconut over the batter, then bake for 28-30 minutes until a toothpick inserted into the center comes out almost clean. Let cool completely.
Trim 1/4-inch from edges, then cut into 3 columns and 6 rows.
Makes 18 bars.

Mary Bilyeu writes for AnnArbor.com on Tuesdays, Wednesdays, and Fridays, telling about her adventures in the kitchen - making dinner, celebrating holidays, entering cooking contests, meeting new friends ... whatever strikes her fancy. She is also on a mission to find great deals for her Frugal Floozie Friday posts, seeking fabulous food at restaurants on the limited budget of only $5 per person. Feel free to email her with questions, comments, or suggestions: yentamary@gmail.com.

Go visit Mary's blog — Food Floozie — where she enthuses and effuses over all things food-related; and look for her monthly articles in the Washtenaw Jewish News. "Like" her on Facebook, or send a tweet on Twitter, too.

The phrase "You Should Only Be Happy" (written in Hebrew on the stone pictured in this post) comes from Deuteronomy 16:15 and is a wish for all her readers - when you come to visit here, may you always be happy.