Posted on
Mon, Feb 4, 2013 : 9:13 a.m.
Barley with Roasted Radishes and Tarragon Butter is luscious and full of flavor
By Peggy Lampman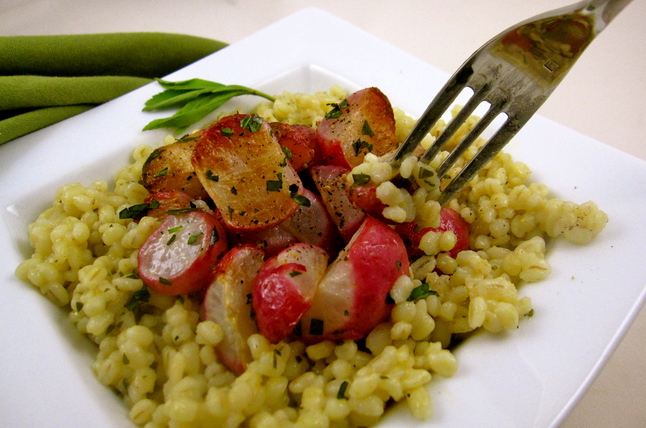 Peggy Lampman | Contributor

My dinnerFeed web site is a lean,
mean fighting machine!
To receive my lastest dinnerFeed posts
by email, sign up here.
Just returned home from an Up North retreat with girlfriends: camaraderie, cross-country skiing and wine tasting on Old Mission Peninsula were some of the highlights. Most of us are passionate cooks — some having made it our livelihoods — so we eschewed the great restaurants in the area, preferring to scratch-cook our dinners and enjoy them by the fire.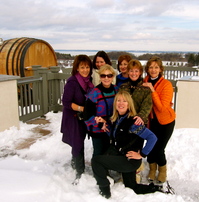 We divvied up meals to prepare, and the dinner I'd planned was a favorite, yet relatively simple, Chicken and Radish recipe. My plans were thwarted when the other enthusiastic cooks brought enough incredibly delicious food to feed an army. I ended up using the chicken for poached chicken sandwiches, carting home the tarragon and radishes.
Craving grains, I decided to make a dish with barley. The result (recipe below) scratched my itch; the butter adding to its lusciousness, but you may substitute with olive oil, if desired, to cut saturated fat. I love the slight cauliflower flavor of radishes when roasted, and the licorice hint of tarragon adds to its depth of flavor.
I made extra tarragon butter, and froze it for last minute seasonings on quickie fish and chicken dishes.
Active Time: 20 minutes (conducted while barley is cooking)

Cooking Time: 40 minutes

Yield: 3-4 main course servings
Ingredients:
1 cup pearl barley

2 1/2 cups chicken or vegetable stock

1 1/2 tablespoons unsalted butter

4 teaspoons fresh chopped tarragon, divided

2 pounds radishes, cleaned and trimmed

2 tablespoons extra virgin olive oil
Directions
1. Preheat oven to 425 degrees.

2. In a medium-sized pot, bring barley and 2 1/2 cups stock to a boil. Reduce heat to a simmer; cook, covered, until tender and the liquid has been absorbed, 40 to 50 minutes. Combine 2 teaspoons tarragon with butter and stir tarragon butter into cooked barley, season with kosher salt and freshly ground pepper. Let sit, covered, 5-10 minutes.

3. While barley is cooking, cut radishes in half lengthwise (leaving small ones whole) and toss with olive oil. Spread on baking sheet, sprinkle with kosher salt, and place on middle rack of oven. Roast radishes for 10 minutes. Open oven and shake pan for even browning. Continue roasting 8-10 minutes, or until crisp-tender.

4. Toss roasted radishes with remaining 2 teaspoons fresh tarragon and serve atop cooked barley.
Peggy Lampman is a real-time food writer and photographer posting daily feeds on her website and in the Food & Grocery section of Annarbor.com. You may also e-mail her at peggy@dinnerfeed.com.