Posted on
Thu, Dec 8, 2011 : 5:35 p.m.
Beef Stewed in Wine with Bacon and Aromatics an easier-to-make tribute to classic Julia Child dish
By Peggy Lampman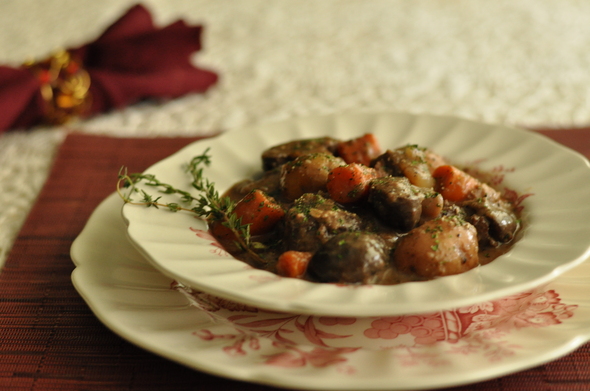 Peggy Lampman | Contributor

I agonized over the title of this recipe. The end result is a
Beef Stew
, but that sounds so pedestrian. And it's so delicious — shouldn't I give it a fancier name than that? After all, the ingredients were adapted from the venerable Julia Child's Boeuf Bourguignon recipe that begins on page 271 of her 1968 classic, "The French Chef Cookbook."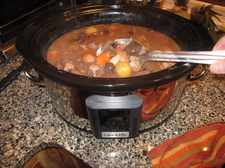 The first sentence in the headnote preceding her recipe reads "...beef Bourguignon is the best beef stew known to man." Certainly I must recreate some version of this classic.
But our techniques to make the dish are so dissimilar that I cringed at the thought of my readers' response had I chosen that name. If I was daunted by the four pages of instruction and garniture, I imaged you might be, as well.
You see, I simply put the ingredients in a Crock-Pot and simmered them for several hours to make the stew. In the last half hour of cooking, I thickened the stew with a flour-butter paste, but that was the extent of my "technique." I'm sure similar results could be accomplished using a Dutch oven or a large, heavy casserole.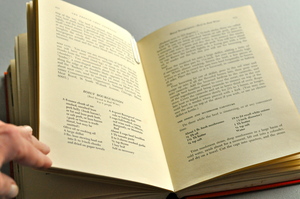 Julia Child suggests a full-bodied Macon, Burgundy or Mountain Red. I took the liberty of using a good Pinot Noir. I also added potatoes to the stew for heft, and carrots because I like their flavor and color when stewed with beef. Both may be omitted, of course. The remaining ingredients are, for the most part, the same as in the Julia Child recipe.
During the busy holiday season, we yearn for elegant classics but have little time to reenact them. Not so the recipe below. You could assemble the ingredients (your mise en place) and set your table the night before a dinner party. The morning of your party, place them in your Crock-Pot to simmer, and head to work. On the way home, pick up a baguette and a soft-ripening cheese for an appetizer, and ingredients for a simple green leaf salad. Have a friend bring dessert.
In the end, I'm satisfied with the name I selected for the following recipe. It's more lyrical than Beef Pinot Noir, and it does the stew justice. Julia Child wrote, "When beef stew is in the oven, all's right with the world." I would add the world seems a better place when beef is stewing in the Crock-Pot.
Make-ahead notes: May be made 1-3 days in advance, then reheated prior to serving.
(Equipment Requirements: I used a 6 1/2 quart eLume slow cooker. I purchased the slow cooker two years ago at Bed, Bath and Beyond. At the time, it cost $79 using a 20-percent off coupon.)
Yield: 8 servings (6 if omitting the carrots and potatoes)
Active Time: 45 minutes
Simmer Time: 8-10 hours on low setting of crock pot
Ingredients:
3 pounds lean stewing meat, such as rump, round or chuck, cut into 2-inch pieces
8 tablespoons white flour, divided
2 tablespoons olive oil
3 large carrots, peeled and cut into 1-inch pieces
1 1/2 pounds baby potatoes, left whole
6 strips raw bacon, cut into 1/2-inch pieces
2 cups beef stock
2 1/2 cups good red wine*
1 tablespoon tomato paste
1 tablespoon minced garlic
5 sprigs fresh thyme, plus extra sprigs for garnish, if desired
1 bay leaf
3 cups baby (pearl) onions, skin removed**
1 pound mushrooms, cleaned and cut in half if large
4 tablespoons unsalted butter
*Select a wine that you would enjoy serving as an accompaniment to the stew.
**To remove skin, cook in boiling water 3 minutes and drain. Skins should easily slide off.
Directions
1. Season beef with kosher salt and freshly ground pepper; coat beef in 4 tablespoons of flour. In a large, heavy-bottomed skillet, heat oil to medium-high heat Sear beef on all sides until well browned. With a slotted spoon, remove beef from oil and place in the bottom of a 6 1/2 quart Crock-Pot.
2. Place carrots, potatoes and bacon over beef. Whisk tomato paste with beef stock, wine and garlic and pour into pot. Stir in thyme sprigs and bay leaf. Cover pot and cook over low heat 4 hours.
3. Stir in baby onions and mushrooms. Cover and continue cooking an additional 4-5 hours or until beef is tender. (Note: if you are away from home the day, you may simmer the mushrooms and onions at the beginning of cooking time, with the beef.)
4. In a medium-sized bowl, with a fork, combine remaining 4 tablespoons of flour and butter to make a thick paste. Whisk a cup of the beef cooking liquid over the paste and whisk until paste is smooth. Pour mixture into the Crock-Pot and stir well to incorporate into the stew. Cook an additional 30 minutes or until stew has thickened. Season to taste with kosher salt and pepper. Serve garnished with fresh thyme sprigs, if desired.

My new web site (packed with holiday recipes) has recently been launched. (www.dinnerFeed.com)! I'm a real-time food writer and photographer posting daily feeds on my website and in the Food & Drink section of Annarbor.com. You may also e-mail me at peggy@dinnerfeed.com.