Posted on
Wed, Dec 28, 2011 : 9:34 a.m.
Beef Tenderloin is an easy-to-make and versatile crowd-pleaser
By Peggy Lampman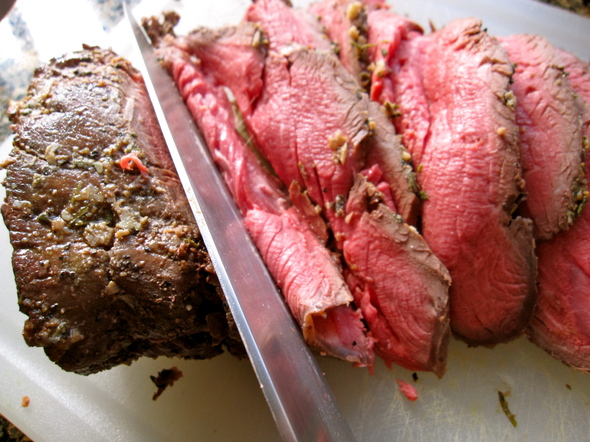 Peggy Lampman | Contributor

The new Holiday Cookbook answers all of your cooking needs. Strapped for time? Check out the well-tested Super-Simple section.
Beef tenderloins may be expensive, but there are few crowd pleasers that are easier to make.
I'm roasting a tenderloin to serve alongside Roasted Garlic Mashed Potatoes; but a sliced tenderloin also makes wonderful appetizers. Combine mayonnaise and horseradish to taste, and serve thin slices of tenderloin with the horseradish-mayo and a sliced baguette.
Leftovers are a bonus. I'm using leftover beef for a tossed salad with gorgonzola and roasted peppers one night, and then cutting leftovers into slivers for New Years Eve canapes later in the week.
Ingredients
1, 3 pound piece, beef tenderloin
1 clove garlic
1 tablespoon plus 1 teaspoon minced fresh rosemary
Directions
1. If time allows, allow beef to stand at room temperature one hour.
2. Preheat oven to 425 degrees.
3. Rub tenderloin with cut side of garlic and coat evenly with 1 tablespoon of the rosemary. Generously season with kosher salt and freshly ground pepper.
4. Roast on a rack over a shallow roasting pan. After placing in oven, reduce heat to 350 degrees. Cook 35 minutes or until beef registers an internal temperature of 120-130 degrees for rare, 140 degrees for medium.
5. Let the tenderloin rest at least 15 minutes before slicing.
My new web site (packed with holiday recipes) has recently been launched. (www.dinnerFeed.com)! I'm a real-time food writer and photographer posting daily feeds on my website and in the Food & Drink section of Annarbor.com. You may also e-mail me at peggy@dinnerfeed.com.