Posted on
Sat, Jul 24, 2010 : 10:51 p.m.
Annual summer beer festival in Ypsilanti draws crowd of 9,000 despite heat, rainy weather
By David Bardallis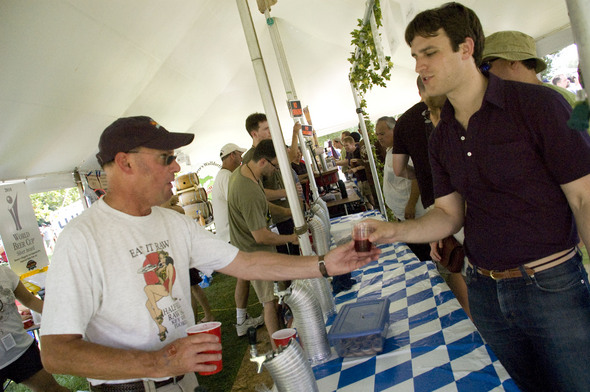 Photo by Tom Perkins | For AnnArbor.com
Despite humid, rainy weather, thousands of beer enthusiasts crowded into Ypsilanti's Riverside Park Friday and Saturday for the Michigan Brewers Guild Summer Beer Festival, an annual ode to the state's many microbreweries, their sudsy products, and the people who support them.
The 13th edition of the popular festival featured some 350 different beers, including everything from Peanut Butter Stout to Mango Chipotle Ale. The beers came from 54 of the more than 70 small breweries that together rank Michigan sixth in the country for number of breweries.
"We sold around 9,000 tickets, up from last year," said Scott Graham, executive director of the Michigan Brewers Guild. "Growth in Michigan craft beer sales consistently outpaces growth in the national average for sales of craft beer, and it's largely due to the enthusiasm we see from our brewers as well as the exceptionally educated consumers who attend festivals like this."
The 2010 festival featured live music, more food vendors than ever before, tents from nonprofits like the Humane Society of Huron Valley, podcast panels on various brewing topics, a brewing demonstration and more.
Photo by Tom Perkins | For AnnArbor.com
Festival attendees braved sweltering heat, torrential downpours, an overflowing Huron River, power blackouts and the possibility of tornadoes to attend the two-day event, which took place 5-9 p.m. on Friday and 1-6 p.m. on Saturday. Dues-paying members of the Brewers Guild were allowed in an hour early.
"Everyone is happy and having a good time," said Mike Smigielski, 55, of Ypsilanti, who was attending the festival for the eighth time. "The weather doesn't matter."
"You have thousands of people drinking beer for hours, and they're all the nicest people you'd ever meet," noted longtime festgoer Tyler Brubaker, 34, of Ann Arbor. "We're all here to celebrate the same thing."
Each ticket sold included 15 tokens for 3-ounce samples, with additional tokens available for purchase. Brew lovers chose from a varied array of options organized into three large tents, as well as a handful of smaller ones, with breweries and beers from as near as several blocks away (Ypsilanti's Corner Brewery) and as far away as the Upper Peninsula (Keweenaw Brewing in Houghton).
"It's about a nine and a half hour drive down here — if you stay focused," said Paul Boissevain, owner of Keweenaw. "I make the trip every other year for the great exposure, the great people — it's just a really well-run event."
Teo Ahlbrandt-Rains, assistant brewer at Corner, which lost power in Friday's thunderstorms, agreed about the festival's impact. "For me, it's really moving to see a homegrown thing like this sell out two days in a row — I really feel I'm part of something that's big and growing."
Growth is the key word: Not only has the festival grown in numbers from previous years, but according to figures published by Michigan Beer Guide, in-state sales of Michigan-brewed beers were up 10.2 percent last year, despite overall beer sales being down. A 2009 study by the National Beer Wholesalers Association and the Beer Institute pegged Michigan's beer industry as contributing $4.9 billion to the state's economy, ranking 13th in economic impact compared to other states.
But for many beer lovers, it's not about numbers.
"I've been to other festivals in other states, including places like Oregon, but I've never seen the same enthusiasm for local beer as I've seen in Michigan," said Jess Buehler, 32, of Ypsilanti. "Brewers here are just more creative, too."
The guild's Graham points to the success of the festival even in the face of the inclement weather. "On Friday, even when it was raining hard, we had a steady trickle of people actually buying tickets and still coming in. That really says something about our beer."
Distance also said something about Michigan beer, with tour groups of people from as far away as New York paying a visit.
"This fest is laid out much better than others I've been to," said Tom Hull, 27, who drove up to his first Michigan Summer Beer Festival from Covington, Ky. "I will absolutely come back next year; I wouldn't want to miss this."
David Bardallis is a freelance writer and editor, blogger, bon vivant, and man about town. Visit his website, DavidBardallis.com, to engage his services or read his latest. Email your beer-related thoughts to annarborbeer@gmail.com, follow @dbardallis on Twitter, or join the "All the Brews Fit to Pint" Facebook page.