Posted on
Mon, Mar 1, 2010 : 1:42 p.m.
Beer growlers now available at Whole Foods Cranbrook
By David Bardallis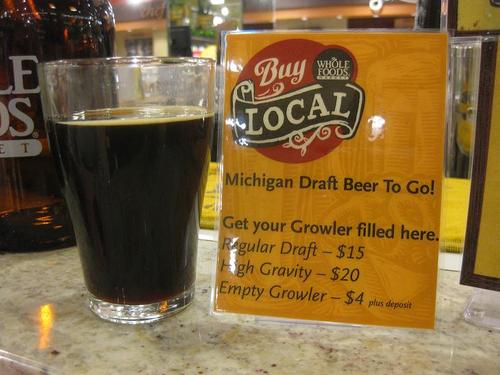 David Bardallis | Contributor
As if it weren't awesome enough that you can enjoy draft pints of Michigan beer while getting your grocery shopping done at
Whole Foods Cranbrook
,
990 W. Eisenhower
, now you can also fill up a half-gallon jug with fresh brew to take home with you.
That's right, growlers are now available at the in-store wine and beer bar at $15 for "regular" drafts or $20 for high-gravity brews, such as the Bell's Batch 9,000 Ale now on tap. Empty growlers are $4.
For the uninitiated, Bell's Batch 9,000 is a commemorative ale brewed with molasses and licorice. At 12% ABV, it's a heavy, sweet, dessert sort of beer that can benefit from aging or, of course, be enjoyed right now. At a grocery store. Cheers!
David Bardallis is a freelance writer and editor, blogger, bon vivant, and man about town. Visit his Web site, DavidBardallis.com, to engage his services or read his latest. Email your beer-related thoughts to annarborbeer@gmail.com, follow @dbardallis on Twitter, or join the "All the Brews Fit to Pint" Facebook page.