Posted on
Tue, Mar 5, 2013 : 8 a.m.
Beer 'n' cheddar bratwurst sliders - creative use for savory sausages
By Mary Bilyeu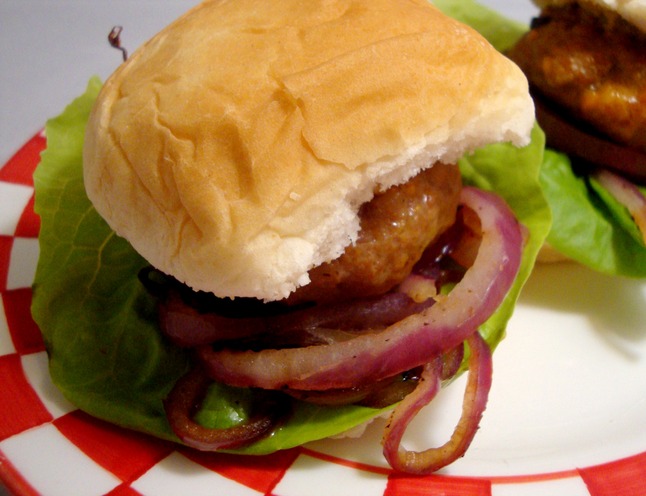 Mary Bilyeu | Contributor
I was going to call these "Brat Burgers," but they were too good to risk the misperception that there might be anything bratty about them!
I found some adorable mini slider buns on sale at the store one day, and had some beer 'n' cheddar bratwurst defrosting for dinner that night. I'd planned to simply skillet-fry the sausages, until I found the rolls; then, in a flash, I thought of turning the bratwurst into burgers.
I halved the bratwurst cross-wise, then formed the meat from each half into a tiny patty. Cooked 'em up, sauteed some onions with 'em, put it all on the buns, and there was dinner!
And Jeremy said it was the best way of eating bratwurst ever.
Beer 'n' Cheddar Bratwurst Sliders
5 links beer 'n' cheddar bratwurst
1 tablespoon butter
1 medium red onion, sliced thin
10 slider buns
brown mustard
lettuce leaves
Cut each of the bratwurst links in half cross-wise; remove the meat from each half, forming it into small patties.
Heat a large skillet over medium heat; add the patties and brown them. Melt the butter in the skillet and add the onions to the skillet with the patties; cook the patties for 4-5 minutes per side, until cooked through. Stir the onions periodically to keep them from sticking.
Open the buns and schmear them with mustard. Place lettuce leaves on the bottom halves of the buns, top with some of the onions, then top with bratwurst patties; place the remaining bun halves on top.
Makes 10 sliders.

Mary Bilyeu writes for AnnArbor.com on Tuesdays, Wednesdays, and Fridays, telling about her adventures in the kitchen - making dinner, celebrating holidays, entering cooking contests, meeting new friends ... whatever strikes her fancy. She is also on a mission to find great deals for her Frugal Floozie Friday posts, seeking fabulous food at restaurants on the limited budget of only $5 per person. Feel free to email her with questions, comments, or suggestions: yentamary@gmail.com.

Go visit Mary's blog — Food Floozie — where she enthuses and effuses over all things food-related; and look for her monthly articles in the Washtenaw Jewish News. "Like" her on Facebook, or send a tweet on Twitter, too.

The phrase "You Should Only Be Happy" (written in Hebrew on the stone pictured in this post) comes from Deuteronomy 16:15 and is a wish for all her readers - when you come to visit here, may you always be happy.