Posted on
Sun, Aug 14, 2011 : 2:06 p.m.
Old Rasputin - A walk on the dark side
By Nate Parsons
Old Rasputin Russian Imperial Stout is a bold endeavor worthy of its Porter bloodlines and mad monk moniker.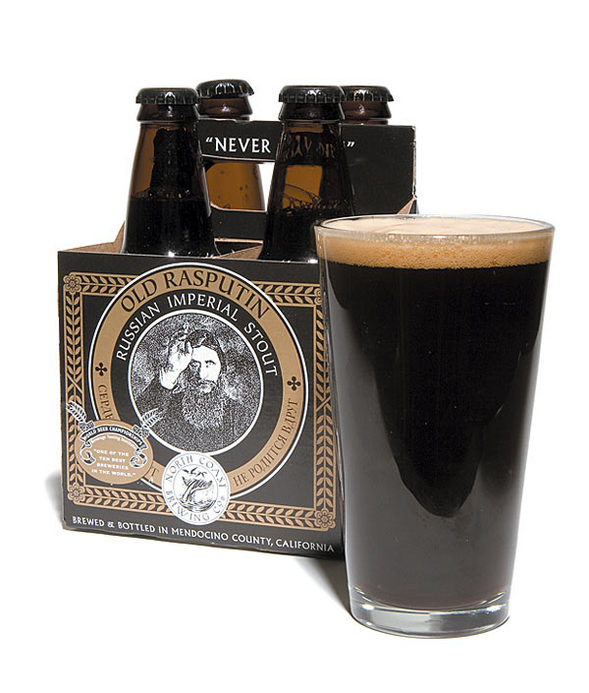 The church is near, but the road icy. The pub is far, but I will walk carefully...
- Old Russian Proverb
Tasting Notes
Beer:
Old Rasputin Imperial Stout
Brewery:
North Coast Brewing Co.
Origin:
Fort Bragg, Calif.
Style:
Russian Imperial Stout
ABV:
9 percent
Glassware:
Pint - Nonic or Becker
Description:
Pours jet black with a consistency reminiscent of motor oil, delivering a thick creamy head that crowns the glass. The aroma is dominated by dry bittersweet chocolate, roasted espresso and hints of spiced fruit. Up front, each mouthful is an explosion of complex flavors; coffee, mocha, vanilla, molasses, surrounded by rich smoky overtones. Further in, Rasputin gives way to savory malts intertwined with hops for an almost buttery finish. This is an aggressive complex winter warmer but very drinkable and highly recommended.
Where to Purchase
Super Liquor 4, State St., Ann Arbor 4-pack/$9.59
Plum Market, North Maple Road, Ann Arbor - 4-pack/$8.99
Main Street Party Store, North Main, Ann Arbor - 4-pack/$10.49
The opaque black hue linked to a hardy stout is unmistakable. This distinct characteristic stems from a malt roasting technique similar to brewing coffee.
Contrary to popular belief, Imperial Stout, or Russian Imperial Stout originated from England. Open trade with Russia in the 1700s prompted the English to create a "stout" beer capable of enduring a harsh journey to the Baltic States. Adding more hops deterred corrupt bacteria while extra malt hyped the alcohol to prevent freezing — Imperial Stout was born!
Today, Stout is enjoying a revival with many craft breweries offering a variation in their seasonal cache. Old Rasputin Russian Imperial Stout from North Coast Brewing is one of the few available all year around. I was first introduced to Old Rasputin at the legendary Brick Store Pub in Decatur, Ga. Wow!
Nate Parsons is a contributor to AnnArbor.com and can be reached at modevin@yahoo.com.