Posted on
Mon, Mar 12, 2012 : 8:04 a.m.
Beet Chips with Tzadziki - a healthy alternative to greasy snack food
By Peggy Lampman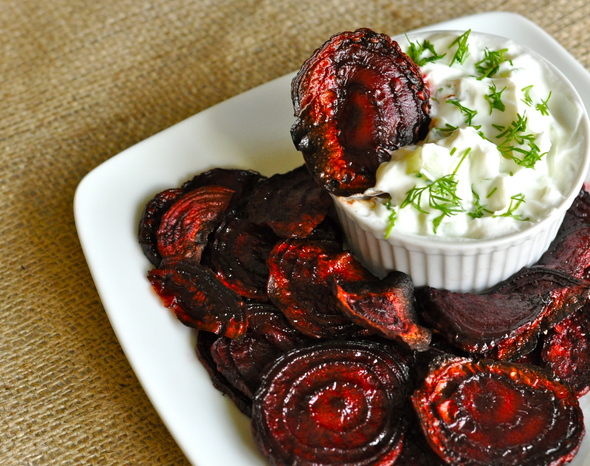 Peggy Lampman | Contributor

mean fighting machine!
As a kid, one of my favorite treats was Ruffles Potato Chips and Lipton Onion Soup Dip. All of that sodium, MSG, all of that crunchy grease — I could have a big bowl and still have energy for playing kick-the-can until bedtime.
But times have changed, and so too (thankfully) my palate. Don't misunderstand me, I'm not immune to the lures of greasy junk food. When I find myself face-to-face with a bowl of Ruffles and dip, I must sit on my hands to control myself, or face the consequences of feeling greasy and lethargic after polishing off a plate.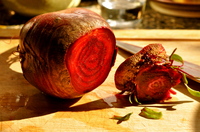 But these unseasonably warm temperatures are nudging me to seek healthy options, and the recipe below satisfied my itch for salty crunch married with a cool and creamy dip.
Beet chips
dipped in
tzadziki
(cucumber yogurt dip) would score higher points on a cardiologist's check-list as well, no doubt about it.
Extra tzadziki? It's will keep in your fridge a few days and is a marvelous veggie munchie dip and divine served with lamb.

Yield: A big plate of beet chips with dip


Ingredients
1 cucumber, peeled, cut lengthwise, seeded, then cut into small (1/4-inch) dice
(1 1/2 cups)

2 medium to large sized beets
Extra Virgin Olive oil, as needed
2 tablespoons fresh chopped dill

1 teaspoon minced garlic

1 cup plain, strained, Greek-styled yogurt (I use Fage 2 percent)
Directions
1. Preheat oven to 350 degrees.
2. Place diced cucumbers on paper towels or in a fine mesh sieve; lightly sprinkle with kosher salt. Let drain 15-30 minutes, pressing into towels or sieve with spoon to release excess moisture.

3. 
While cucumbers are draining, line two large cooking sheets with parchment paper or foil. Brush with olive oil. Slice beets very thin with a mandolin or sharp knife and place in a single layer on cooking sheet. Brush with oil then sprinkle with kosher or sea salt. Place on center rack of oven and bake until crispy, 20-30 minutes, depending on thickness of chip.
4. To make the tzadziki, combine cucumbers with dill, garlic and yogurt; season to taste with kosher salt, if needed, and freshly ground pepper. Serve with beet chips.