Posted on
Wed, Mar 30, 2011 : 5:55 a.m.
Homemade fruit smoothies are a nutritious after-school snack
By Jessica Webster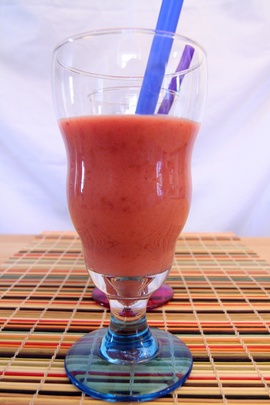 Jessica Webster | AnnArbor.com
My son and I have a great after-school routine. I pick him up and we head to a nearby coffee shop to talk about the events of the day. I order a cappuccino and he gets a smoothie. Caffeine for me and fruit for him. Right? Not so fast.
My bubble of blissful ignorance was popped recently when I made the mistake of looking up the nutritional information for fruit smoothies at both Caribou Coffee and Starbucks. The small Wild Berry Smoothie at Caribou contains 53 grams of sugar, while the Strawberries & Creme Frappuccino at Starbucks checks in with a whopping 61 grams.
Since the recommended daily allowance for an adult-sized person is just 40 grams of sugar, it was pretty clear that we had some changes in store. The good news is that with a blender, some fruit and a container of yogurt, you can make your own delicious smoothies in no time flat.
After some trial and error, I've found a pretty good mix of fruits that satisfies even my picky smoothie drinker. Strawberries make up the bulk of my recipe since they offer a lot of sweetness without too many seeds. I like to buy up a lot of organic strawberries when they are on sale, then core, quarter and freeze them for future smoothie use.
Blueberries aren't a big hit in my house, since the blueberry skin can clog up the straw. Raspberries are wonderfully sweet but heavy on the seeds, so I limit them to just a small handful. My son hates bananas, but I have found that I can slip a half a banana into a smoothie without being detected. Bananas also freeze well.
Many smoothie recipes call for apple juice, but we never have that on hand, so I've replaced it with coconut milk. It adds a richness and a tropical flavor. It also adds fat, but since I'm using nonfat yogurt, it didn't seem unreasonable.
I've included 1 tablespoon of honey in the ingredients, but I always taste the smoothie before adding any since it's often sweet enough just from the fruit.
You can make smoothies with fresh or frozen fruit. If using fresh fruit, you will probably want to add some ice cubes to thicken the smoothie a little.
Fruit smoothies
3 cups fruit, fresh or frozen (I used strawberries, raspberries and mango) 1 cup non-fat yogurt, plain 1/2 banana 1/2 cup coconut milk 1 tablespoon honey Ice cubes
Blend the fruit, yogurt, banana and coconut milk. Add the honey to taste and the ice cubes for thickness, as necessary. Serve immediately.
Serves 4.
Nutritional information: Calories: 211.9; Total fat: 12.7 g; Sodium: 38.6 mg; Total carbohydrate: 22.4 g; Sugars: 11.1 g; Protein: 4.1 g.
Jessica Webster leads the Food & Drink section for the AnnArbor.com community team. You can reach her at JessicaWebster@AnnArbor.com.
For an extra treat, please enjoy Herb Albert & The Tijuana Brass performing "A Taste of Honey."