Posted on
Fri, Feb 15, 2013 : 4:18 a.m.
Bi Bim Bop - you can create this classic Korean dish at home
By Peggy Lampman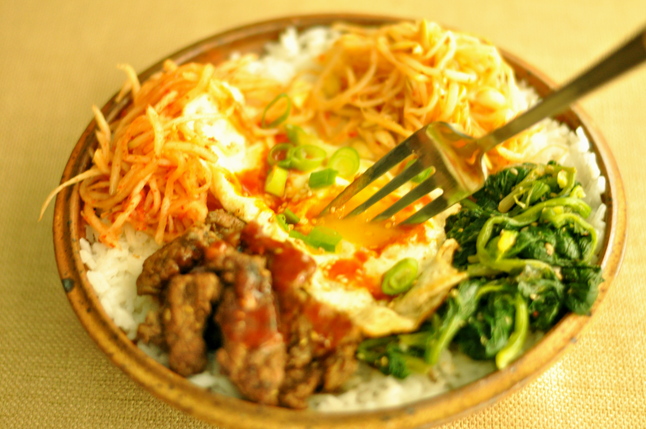 Peggy Lampman | Contributor

My dinnerFeed web site is a lean,
mean fighting machine!
To receive my lastest dinnerFeed posts
by email, sign up here.
Bi Bim Bop is not only a popular Ann Arbor dish, it's an Ann Arbor state of mind. There are many, many differing opinions as to what constitutes the best Bi Bim Bop, which establishment in town makes it best, and even how to spell it.
Since this is a recipe blog, I undertook the challenge of making it from scratch. Well, almost. Hyundai Market, a Korean market on Platt and Ellsworth, stocks everything you need; I usually get my thin-sliced beef, vegetables (spinach and sprouts being the most important to me) and seasoned red pepper paste to make the sauce from there. Pick up some kim chee while you're there — they make it in-house, and it's delicious.
To make the recipe below, you'll need to have bulgogi (Korean cooked beef) at the ready. Certainly tofu (my personal favorite) or chicken may be substituted. When I undertake making a Bop, I have bulgogi the night before the bop, insuring that I have leftovers.
If you've no time to cook, I've enjoyed Bop at Bell's Diner, Kosmo Deli, Bewon, Arirang and Tianchu. I'll bet there are other Bop cafes around town I haven't tried. Once again, I'm amazed a town our size has such a plethora of authentic Korean eateries.
Active Time: 50 minutes (including time to make the pepper sauce)
Marinate Time for Beef: 3-48 hours
Number of servings (yield): 4-6 servings

Ingredients
Steamed white rice

Assorted vegetables such as sprouts, shredded daikon and/or carrot, blanched spinach and julienned zucchini, and saut&eacuteed mushrooms

Fried eggs seasoned with kosher salt and sprinkled with sesame seeds

Bulgogi

Korean Pepper Sauce (recipe below)
Instructions
1. Divide steamed rice into serving bowls.

2. Arrange vegetables and proteins on rice; top with the fried egg. Mix together and enjoy, passing the Korean Pepper Sauce (recipe below).

* I purchased seasoned shredded vegetables, sprouts and spinach ready-to-go at Hyundai Asian Market.
Note: I froze the meat, then allowed it to sit at room temperature for 2-3 hours. This allowed me to slice the beef in paper-thin slices against the grain, partially frozen, with ease.
Korean Red Pepper Sauce
Ingredients
2 tablespoons Korean-styled Seasoned Red Pepper Paste
1 1/2 tablespoons toasted sesame oil
1/2 tablespoon dark brown sugar
Instructions
Whisk together pepper paste, sesame oil, sugar and 1 tablespoon of water.
Peggy Lampman is a real-time food writer and photographer posting daily feeds on her website and in the Food & Grocery section of Annarbor.com. You may also e-mail her at peggy@dinnerfeed.com.