Posted on
Fri, Feb 15, 2013 : 2:30 p.m.
Bill's Beer Garden releases expanded 2013 schedule
By Jessica Webster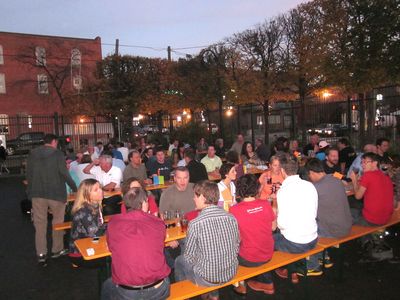 Courtesy of Bill's Beer Garden
Bill's Beer Garden
has announced its 2013 schedule. The bar will be open weekend evenings in May and June, and will move to a 6-day-a-week schedule in July.
Beer lovers can get an early taste, however, when the bar opens for two strategic weekends earlier in the season: St. Patrick's Day weekend in March and FestiFools weekend in April.
St. Patrick's Day weekend makes a lot of sense, of course, but FestiFools might surprise some. Bill's Beer Garden co-owner Bill Zolkowski, however, can barely contain his enthusiasm for the annual street festival of giant puppets.
"It has become such a huge event in this area. We want to become a participant in some way, maybe be a venue to host some artists," said Zolkowski in a phone interview. "I'd love for us to be a palette for something."
Zolkowski explained that the posted schedule was conceived to make allowances for the busy spring season at Downtown Home and Garden — whose parking lot the bar occupies — and to take advantage of predicted weather. But if Ann Arbor gets an unexpectedly warm April, the beer garden won't stay dark.
"What we've stated on the schedule is just a minimum," said Zolkowksi. "If the weather is good, we'll pop up on other days too. We had good luck last season getting the word out using social media."
Zolkowski says the beer list has yet to be finalized, but a preliminary list of breweries has been released, including Arbor Brewing Co., Bell's, Dark Horse, Wolverine Brewing, Founders, Original Gravity, Dragmonmead and New Holland.
"We're still trying to put together the final menu," said Zolkowski. "It all depends on what we can get in various sized barrels."
Bill's Beer Garden 2013 schedule:
March 15-17, 5 p.m. -11 p.m.
April 5-7, 5 p.m. -11 p.m.
May and June: every Thursday through Sunday, 7 p.m. - 11 p.m.
July 4 through Sept. 30: Tuesday through Sunday, 5 p.m. - 11 p.m.
October through early December: Thursday through Sunday 5 p.m. - 11 p.m.
Check out Bill's Beer Garden's website or Facebook page for more information.
Jessica Webster leads the Food & Grocery section for AnnArbor.com. Reach her at JessicaWebster@annarbor.com. You also can follow her on Twitter or subscribe to AnnArbor.com's email newsletters.