Posted on
Mon, May 17, 2010 : 12:31 p.m.
Ypsilanti's Bill's Drive-In: Another treasure along Michigan Avenue
By John Moors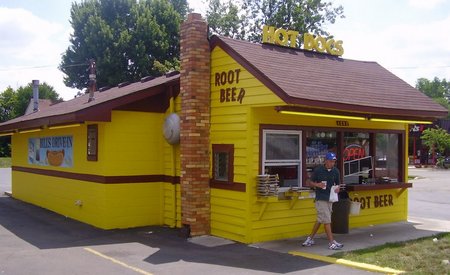 In this area, most people head to Ann Arbor for their dining choices. Some people like to stick around Ypsilanti and visit Sidetrack or Aubree's. I can't argue with any of these choices, but when it comes to really good local joints you just can't beat a trip down Michigan Avenue.

Sure, you may feel like you're in a bit of an odd (for some people, scary) area on your way there but once you reach Gabriel's Hoagies, Roy's Squeeze-Inn or Los Amigos you'll feel like you're in food heaven. These are some of the few businesses on this strip that remain from the 1950's and before, and are offering not only great food, but also an experience that you just can't find many other places.
Right across the street from Gabriel's and Roy's sits Bill's Drive-In, which like both places, has fed locals for 50+ years(since 1935, to be exact). The building looks like a tiny mustard colored house surrounded by a parking lot, but two windows at the front and crooked signage indicating hot dogs and root beer let you know that this little house is actually a hot dog stand. Pull in, but don't get out of your car. An attendant will be at your car within one minute and they do not serve customers at the front window.
There are no menus at Bill's. If you're not sure what you want, the attendant will quickly tell you what they offer. Hot dogs with or without chili, topped with your choice of onions, cheese, or mustard. Loose burgers are also offered. There is homemade root beer to drink, and potato chips if you need a side. If that's not simple enough for you then I think you may have some sort of problem. If you need something else other than that, I just don't think Bill's isn't for you. This isn't Pink's or any kind of fancy Hollywood hot dog stand. They don't need any other items. Their menu is perfect.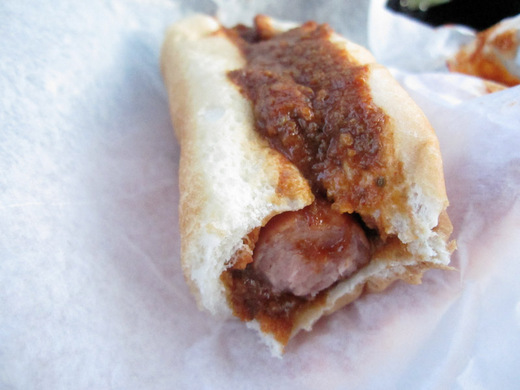 John Moors | Contributor
Order a dog or two with chili and a large root beer. It will only cost you about $3. Open the paper wrap and you'll find a steamed white bun that is shorter than the hot dog. The hot dog is cooked by boiling and kept warm by steam. The dogs are naturally cased and while they don't have as much snap as I would normally like, the flavor makes it completely OK. The chili is very unique. Not quite Coney chili, but not like ... Well, it's hard to explain. It's definitely tomato rich and a little spicier than most Coney chili. They have gotten the chili to hot dog ratio perfect and the ratio is consistent on every order. The dog is topped with plenty of chili, but just enough so it doesn't spill all over your lap while eating it in your car.
John Moors | Contributor
The hot dogs and chili are delicious, but the real star of Bill's Drive-In is the root beer. Believe me when I tell you that this is the best root beer you will ever have. I have traveled thousands of miles on a quest to find the world's best root beer. I haven't really, but I've tried a lot of root beer in my life and this is by far the best. There's not even a close second. The root beer is rich, creamy, a little syrupy, with a nice bite to the finish. It's the definition of legit. You just can't get root beet like this anywhere else, especially in a bottle or can. Next time you visit, ask to take a gallon home with you. It comes in a simple milk jug and will be gone in 24 hours. You'll thank me later.
Bill's is another example of the great good that exists in this area if you look for it. It's not exactly a hidden gem, but most people would have to venture out farther than they usually go for a meal to find it. Do some research and you will find places, such as Bill's, which offers so much more appeal and history than simply going to a chain restaurant and eating something that has little thought or process behind it.
John Moors is single-handedly raising national obesity levels and documenting it on his blog at EpicPortions.com. Challenge him or just say hello by e-mail at john@epicportions.com, or follow him on Twitter @EpicPortions.