Posted on
Wed, Nov 30, 2011 : 8 a.m.
Black bean and beer soup is a vegan recipe that's substantial and satisfying
By Mary Bilyeu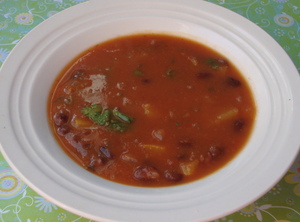 Mary Bilyeu, Contributor
It's cold out, so hot soup makes a perfect light lunch or dinner.
This version is a different spin on traditional black bean soup. Sure, it contains the usual ingredients like beans and salsa. But it's thickened with pumpkin, adding flavor, color and nutrition. It also benefits from the addition of beer, rather than using just only plain ol' water.
This is vegan, but is substantial enough to satisfy even those who think they'll miss having some meat (i.e.: salt pork or bacon) in their bean soup. Served with some good crusty bread, you've got an ideal comfort food for a chilly day.
Black Bean 'n' Beer Soup
2 tablespoons oil
1 small onion, chopped fine
1/2 small yellow pepper, chopped fine
2/3 cup salsa
1-1/2 cups beer
1 cup water
1 15-ounce can black beans, drained, rinsed
juice of 1 lime
1-1/2 teaspoons kosher salt
1 tablepoon sugar
1 cup pumpkin puree
1/4 cup chopped cilantro
In a medium saucepan, heat the oil over medium heat. Add the onion and pepper; cook for 5 minutes, stirring occasionally, until the vegetables are softened. Add the salsa, beer, water, beans, lime juice and salt; bring to a boil, then cook over low heat for 15 minutes.
Whisk in the sugar and the pumpkin; continue cooking for 15 more minutes. Stir in the cilantro, then serve hot.
Serves 6.
I'll be keeping Office Hours at AnnArbor.com on Thursday, Dec, 1 from 4-5 p.m. Come say "hi!" Give me Frugal Floozie Friday recommendations, tell me what you're serving for whichever upcoming holidays you're celebrating — just stop by, have a cup of coffee, hang out in the Community Space ....

Mary Bilyeu has won or placed in more than 60 cooking contests and writes about her adventures in the kitchen. She was thrilled to have her post about Scottish Oatmeal Shortbread named as one of the daily "Best of the Blogs" by the prestigious Food News Journal.
Go visit Mary's blog — Food Floozie — on which she enthuses and effuses over all things food-related. Her newest feature is Frugal Floozie Friday, seeking fun and food for $5 or less ... really! Feel free to email her with questions or comments or suggestions: yentamary@gmail.com.
The phrase "You Should Only Be Happy" (written in Hebrew on the stone pictured in this post) comes from Deuteronomy 16:15 and is a wish for all her readers as they cook along with her ... may you always be happy here.