Posted on
Tue, Aug 20, 2013 : 8:45 a.m.
BLT salad is slightly healthier way to celebrate National Bacon Lovers' Day
By Mary Bilyeu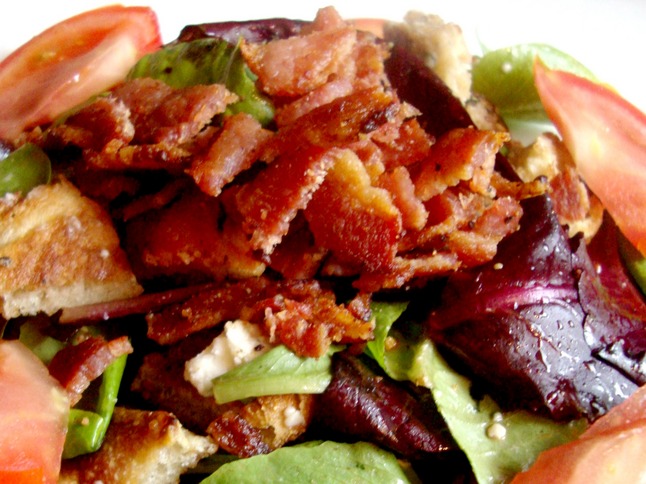 Mary Bilyeu | Contributor
It's National Bacon Lovers' Day!
But I wanted to try — at least a little! — to combat some of the fat and salt by also offering some vegetables in my "holiday" dish, while still, of course, highlighting the star of today's show. So, I made a salad. Sure, I'm deluding myself that there's much of a health component here! But, c'mon — this is a happy day!
And why, when honoring the beautiful entity that is bacon, should we just dump some of it on a plate with eggs, when we can layer the flavors?
So there's the crispy, crunchy, salty, savory bacon. There are sourdough croutons sauteed in a bit of bacon fat. And another tidbit of the bacon fat infuses the vinaigrette. A triple dose!
We can be ascetic tomorrow. For today, celebrate bacon!
BLT Salad
5 slices thick-cut bacon
2 sourdough English muffins, split, toasted
1/8 cup finely grated Parmesan cheese
5 ounces mixed baby lettuces
1/4 cup crumbled blue cheese
2 tomatoes, sliced
1/2 small red onion, sliced thin
1 tablespoon whole grain mustard
1 tablespoon balsamic vinegar
1 tablespoon extra-virgin olive oil
kosher salt and pepper, to taste
Place the bacon slices into a large skillet; cook until crisp over medium heat, turning frequently. Drain bacon and reserve fat; crumble the bacon and set aside.
Remove 2 tablespoons fat from the skillet and place them into a small mixing bowl. Drain all but 1 tablespoon of remaining fat and reserve for another use.
Cut the English muffins into 1/2-inch cubes and cook in the skillet with the bacon fat, over medium heat, for 2 minutes, tossing occasionally. Sprinkle with the Parmesan and set aside.
Place the lettuces, blue cheese, tomatoes, and onion into a large mixing bowl. Combine the 2 tablespoons reserved bacon fat with the mustard, vinegar, olive oil, and salt and pepper; whisk thoroughly, then pour over salad.
Toss salad, then divide among 4 serving plates. Top with English muffin croutons and bacon.
Makes 4 servings.

Mary Bilyeu - a self-proclaimed Food Floozie (named for her blog, which is taking a summer vacation) - writes for AnnArbor.com on Tuesdays, Wednesdays, and Fridays, telling about her adventures in the kitchen. She is also on a mission to find great deals for her Frugal Floozie Friday posts, seeking fabulous food at restaurants on the limited budget of only $5 per person. Feel free to email her with questions, comments, or suggestions: yentamary@gmail.com.

The phrase "You Should Only Be Happy" (written in Hebrew on the stone pictured in this post) comes from Deuteronomy 16:15 and is a wish for all her readers - when you come to visit here, may you always be happy.