Posted on
Tue, Jul 9, 2013 : 8 a.m.
Blue cheese crostini - you probably can't eat just one of these tasty, crispy appetizers
By Mary Bilyeu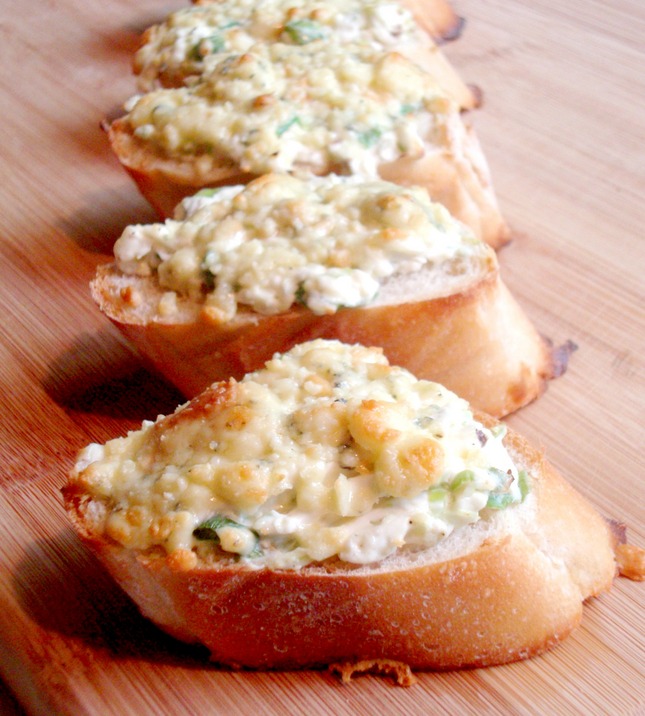 Mary Bilyeu | Contributor
I recently had a notion to make something crispy and gooey, a little snack or appetizer.
I'll admit, I needed to clarify the difference between bruschetta and crostini before naming my creation; I'm a bit obsessive about linguistic matters. So here, for everyone's either enjoyment or edification (or, I hope, both), are the definitions according to Merriam-Webster:
Bruschetta: thick slices of bread grilled, rubbed with garlic, drizzled with olive oil, often topped with tomatoes and herbs, and usually served as an appetizer.
Crostini: small slices of usually toasted bread topped with a spread or other food.
And, just because it matters to me, let me point out that bruschetta is pronounced [broo-skeht-AH]; the "h" after the "c" combines to form a hard sound in Italian. Please don't say [bruh-SHET-uh]. Like Queen Elizabeth II, who reportedly won't embarrass people who mispronounce words in her presence by correcting them or saying the word differently and thus pointing out a mistake, I won't criticize anyone who says it the wrong way within earshot. But, as the memes on Facebook and Pinterest point out, I will judge silently!
Beyond that, bruschetta is the singular; you'll eat one bruschetta or two bruschette [broo-skeht-AY]. Crostini is the plural for the toasted breads; crostino is the singular.
So, I happily ate multiple crostini when I made this recipe. I can't imagine eating only one crostino. Even Craig, who loathed blue cheese before he met me, has apparently become a convert and relished these...
Blue Cheese Crostini
1/3 cup softened cream cheese
3 scallions, chopped fine
generous sprinkling of freshly ground black pepper
1 tablespoon half-and-half
6 1-inch slices of a soft-crusted baguette*
1/2 cup crumbled blue cheese (smoked, if available)
Preheat oven to 450 degrees. Line a baking sheet with foil.
With a fork, mash together the cream cheese, scallions, pepper, and half-and-half. Schmear the mixture onto the baguette slices, then place them onto the prepared baking sheet.
Divide the blue cheese among the baguette slices, then bake for 8-10 minutes until burnished on top.
Makes 6 crostini.
* Use a soft baguette, as it will be toasted in the oven and a firmer one will become too hard.

Mary Bilyeu - a self-proclaimed Food Floozie (named for her blog, which is taking a summer vacation) - writes for AnnArbor.com on Tuesdays, Wednesdays, and Fridays, telling about her adventures in the kitchen ... whatever strikes her fancy. She is also on a mission to find great deals for her Frugal Floozie Friday posts, seeking fabulous food at restaurants on the limited budget of only $5 per person. Feel free to email her with questions, comments, or suggestions: yentamary@gmail.com.

The phrase "You Should Only Be Happy" (written in Hebrew on the stone pictured in this post) comes from Deuteronomy 16:15 and is a wish for all her readers - when you come to visit here, may you always be happy.