Posted on
Tue, Nov 6, 2012 : 8 a.m.
Blue cornmeal pancakes with red raspberry sauce will get you through Election Day
By Mary Bilyeu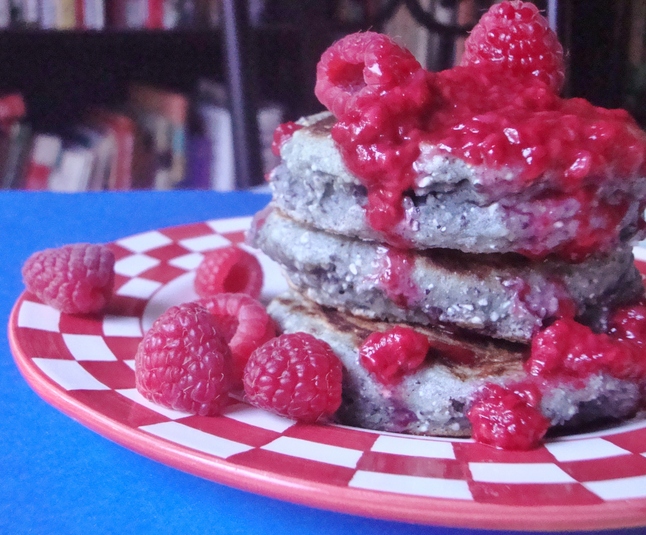 Mary Bilyeu | Contributor
It's Election Day, finally.
After days, weeks, months, and years — a seeming eternity — of positioning, pontificating, polling and pomposity, today is the day we get to choose regents, congressmen, and judges. Oh, yeah — and we'll determine whether Michelle Obama or Ann Romney will be baking cookies in the White House kitchen for the next four years. (The current First Lady won Family Circle's quadrennial recipe contest, with her White and Dark Chocolate Chip Cookies.)
I considered baking cookies, but decided instead not to be partisan. So I made pancakes. Pancakes make everyone happy, even if election results might not.
Whether you start your day with these, or whether you enjoy them at everyone's favorite meal — breakfast for dinner — they'll get you through a long day and night of waiting and wondering as votes are tallied.
Blue Cornmeal Pancakes with Raspberry Sauce
Pancakes:
1 cup blue cornmeal
1/2 cup + 1/3 cup flour
2 tablespoons sugar
1 teaspoon baking powder
pinch of kosher salt
3/4 cup buttermilk
1 egg
butter, for brushing skillet
In a medium bowl, combine cornmeal, all of the flour, sugar, baking powder, and salt. Whisk together buttermilk and egg, then pour over dry ingredients and blend together. Let batter rest 1 minute.
Lightly brush a large skillet with butter, and heat skillet over medium heat. Drop batter by the 1/4-cupful and cook 3 minutes until underside is golden brown; carefully flip and cook 2-3 more minutes until done.
Raspberry Sauce:
1 pint raspberries
4 tablespoons sugar
4 tablespoons water
Place all ingredients into a small saucepan, and bring to a boil. Lower heat to medium, then cook until sauce has thickened, about 5 minutes.
Stack pancakes onto a serving platter. Pour raspberry sauce over the pancakes, then sprinkle with fresh berries. Top with whipped cream, if desired, and serve immediately.
Serves 4.

Mary Bilyeu writes for AnnArbor.com on Tuesdays, Wednesdays, and Fridays, telling about her adventures in the kitchen - making dinner, celebrating holidays, entering cooking contests, meeting new friends ... whatever strikes her fancy. She is also on a mission to find great deals for her Frugal Floozie Friday posts, seeking fabulous food at restaurants on the limited budget of only $5 per person. Feel free to email her with questions, comments, or suggestions: yentamary@gmail.com.

Go visit Mary's blog — Food Floozie — where she enthuses and effuses over all things food-related; and look for her monthly articles in the Washtenaw Jewish News. "Like" her on Facebook, or send a tweet on Twitter, too.

The phrase "You Should Only Be Happy" (written in Hebrew on the stone pictured in this post) comes from Deuteronomy 16:15 and is a wish for all her readers - when you come to visit here, may you always be happy.