Posted on
Fri, May 24, 2013 : 4:59 a.m.
Blueberry Bison Burgers - patties are lowfat but juicy
By Peggy Lampman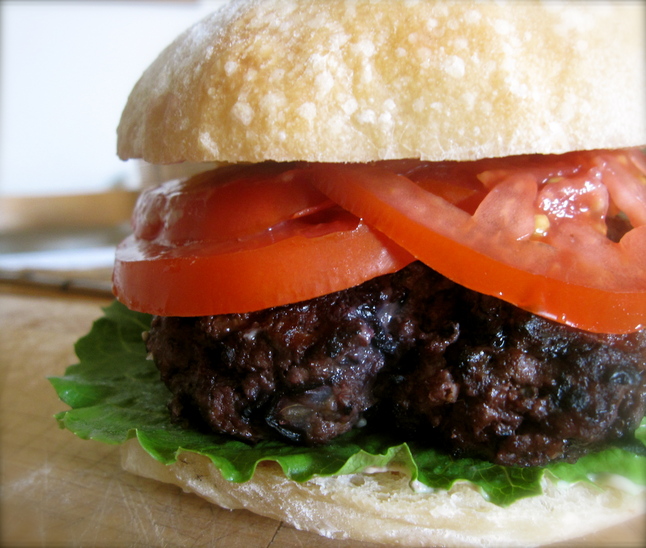 Peggy Lampman | Contributor

To receive my lastest dinnerFeed posts
by email, sign up here.
Here's an old-favorite; a meaty burger that gets its juice from antioxidant-rich blueberries instead of fat.
The fat content gives burgers perfect flavor and texture, but if you're trying to avoid fat, add some blueberries. Keep in mind that bison, as Piedmontese beef, is naturally lower in fat than standard beef, so you don't want to cook them as long. Less fat means that the individual muscle fibers are not as insulated from the heat; thus leaner grinds will cook faster and dry out quicker.
Click here for more of my favorite burgers on the grill.
Prep Time: 5 minutes
Grill Time: 8-12 minutes
Number of servings (yield): 3-4 burgers (depending on burger size)
Ingredients
2 teaspoons finely minced shallot or onion
1 pound of your favorite grind
1/4 teaspoon kosher salt
1/4 teaspoon freshly ground pepper
1/3 cup chopped blueberries
3-4 artisan hamburger buns or
ciabatta bread, sliced horizontally if whole*
3 tablespoons Dijon mustard
3 tablespoons Hellman's mayonnaise
Romaine or other leaf lettuce
Sliced tomatoes
Instructions
1. Prepare gas or charcoal grill to medium-high heat .
2. Combine shallot or onion, grind, salt, pepper and blueberries. Form into 3-4 patties.
3. Oil grill grates and carefully place burgers on your grates. If using a lean grind, handle with care: These burgers are a bit more fragile than their fatty brothers!
4. Grill 3-5 minutes on each side, or until desired doneness. (For lean grinds, cooking to well-done is not recommended.) Meanwhile combine the Dijon and mayonnaise.
Spread the Dijon-mayo on the cut side of each bun half. Arrange lettuce and tomatoes on buns and tuck burgers in-between.
*If using a lean grind (anything higher than 80 percent lean) in the following recipe, I'd recommend purchasing a freshly baked ciabatta bun. It's out of the oven flavor has a wonderful "chew" and absorbs juices- the perfect housing for this scrumptious, if slightly messy, burger. The berry juices would saturate a fluffy, light pillow type of bun.

Peggy Lampman is a real-time food writer and photographer posting daily feeds on her website and in the Food & Grocery section of Annarbor.com. You may also e-mail her at peggy@dinnerfeed.com.