Posted on
Tue, Jul 16, 2013 : 3:35 p.m.
Bollywood movie star Saif Ali Khan spotted filming at Ann Arbor restaurant
By Jessica Webster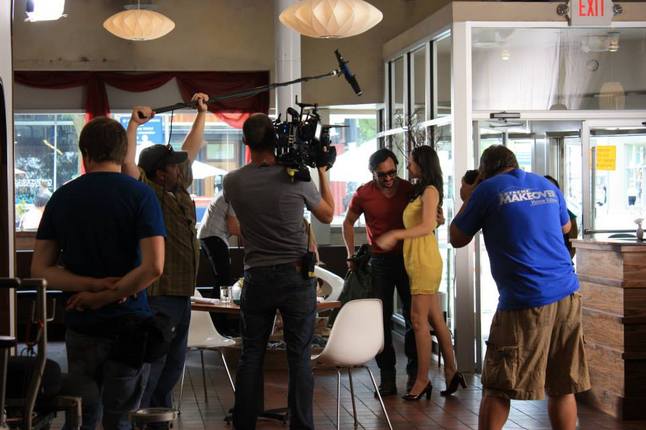 Photo courtesy of Lena
If you were strolling down Main Street in Ann Arbor on Sunday or Monday, you might have noticed a bit of extra activity at Lena. Film crews were using the restaurant for a location shoot featuring acclaimed Bollywood actor
Saif Ali Khan.
The restaurant's Facebook page identifies the movie as "Writer's Block," and Lena staffer Citlalin Vazquez says that film crews were set up at the restaurant, located at 226 S. Main St., for most of the day on Sunday and Monday.
"They were filming here on Sunday until 1:30 in the morning," said Vazquez. "Monday they started again at 8:30 in the morning and were still filming when I left for the day."
The restaurant remained open for business through the duration of the filming, using tables in the back of the restaurant for customers.
"We were even able to have our jazz night downstairs at Cafe Habana Monday night while they were filming upstairs."
Vazquez was tapped for a cameo in at least one scene.
"I think they kind of liked my exotic appearance and they asked me if I could be in the movie as a hostess."
The movie is shooting today at a southeast Michigan golf course, according to Vazquez.
Jessica Webster leads the Food & Grocery section for AnnArbor.com, a part of the MLive Media Group. Reach her at JessicaWebster@annarbor.com. You also can follow her on Twitter or subscribe to AnnArbor.com's email newsletters.