Posted on
Wed, Oct 27, 2010 : 6:54 a.m.
Making Boston cream cupcakes simple, even for non-bakers
By Jessica Webster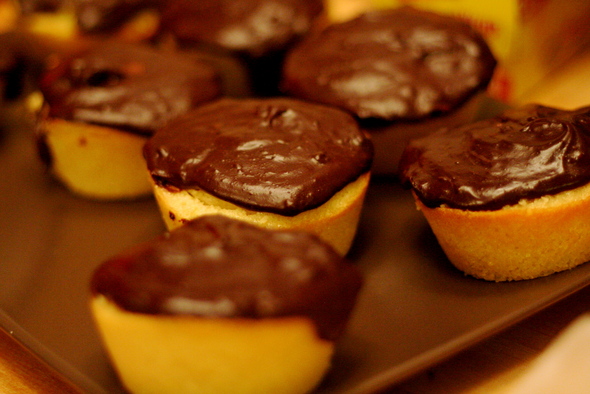 Jessica Webster | Contributor
I love to cook, but I rarely bake. Baking often feels too restrictive. It's all science-y with its baking powders and sodas and very carefully measured liquids. One slight error or omission, and what could have been delicious loaf of gruyere bread ends up as a pricy, cheesy door stop. Not that anything like that has ever happened to me.
That's why I am especially grateful for family and friends who love to bake and do it well. My friend Colleen is an expert pie baker whose crusts are unfailingly perfect. My mom can kick out the world's best Black Forest cake. And my friend Emily is always baking up something delicious and beautiful.
Emily often tries to encourage my baking endeavors with baking-themed birthday gifts, but this year Em forewent the gear and brought the goods. For my birthday earlier this month, she stopped by with some gorgeous little Boston cream cupcakes. It was love at first bite. Not too rich, not too sweet, and a perfect blend of crumby and creamy.
Emily swears you shouldn't be daunted by the lengthy recipe — it's actually quite easy, especially if you line up some help when it comes time to fill the cooled cupcakes.
Boston cream cupcakes from Cook's Illustrated
Ingredients:
Pastry Cream
1 1/3 cups heavy cream
3 large egg yolks
1/3 cup sugar
Pinch table salt
1 tablespoon cornstarch plus 1 additional teaspoon
2 tablespoons cold unsalted butter, cut into 2 pieces
1 1/2 teaspoons vanilla extract
Cupcakes
1 3/4 cups all-purpose flour, plus additional for dusting muffin tin
1 1/2 teaspoons baking powder
3/4 teaspoon table salt
1 cup sugar
12 tablespoons unsalted butter (1 1/2 sticks), softened but still cool, cut into 12 pieces
3 large eggs
3/4 cup milk
1 1/2 teaspoons vanilla extract
Chocolate Glaze
3/4 cup heavy cream
1/4 cup light corn syrup
8 ounces bittersweet chocolate , chopped
1/2 teaspoon vanilla extract
Instructions:
1. For the pastry cream: Heat cream in medium saucepan over medium heat until simmering, stirring occasionally. Meanwhile, whisk egg yolks, sugar, and salt together in medium bowl. Add cornstarch and whisk until mixture is pale yellow and thick, about 15 seconds.
2. When cream reaches full simmer, slowly whisk it into yolk mixture. Return mixture to saucepan and cook over medium heat, whisking constantly, until thick and glossy, about 1 1/2 minutes. Off heat, whisk in butter and vanilla. Transfer pastry cream to small bowl, press plastic wrap directly on surface, and refrigerate until cold and set, at least 2 hours or up to 2 days.
3. For the cupcakes: Adjust oven rack to middle position and heat oven to 350 degrees F. Spray muffin tin with cooking spray, flour generously, and tap pan to remove excess flour.
4. With electric mixer on low speed, combine flour, baking powder, salt and sugar in large bowl. Add butter, one piece at a time, and combine until mixture resembles coarse sand. Add eggs, one at a time, and mix until combined. Add milk and vanilla, increase speed to medium, and mix until light and fluffy and no lumps remain, about 3 minutes.
5. Fill muffin cups three-quarters full (do not overfill). Bake until toothpick inserted in center of cupcake comes out clean, 18 to 20 minutes. Cool cupcakes in pan 5 minutes, then transfer them to rack to cool completely.
6. For the glaze: Cook cream, corn syrup, chocolate, and vanilla in small saucepan over medium heat, stirring constantly, until smooth. Set glaze aside to cool and thicken for 30 minutes.
7. Prepare and fill cupcakes (directions below). Refrigerate until just set, about 10 minutes. (Cupcakes can be refrigerated for up to 2 days; bring to room temperature before serving.)
Filling and glazing the cupcakes
1. Insert the tip of a small knife at a 45-degree angle about 1/8 inch from the edge of the cupcake and cut all the way around, removing a cone of cake.
2. Cut away all but the top 1/4 inch of the cone, leaving only a small disk of cake.
3. Fill the cupcake with 2 tablespoons pastry cream and top with the disk of cake.
4. Set the filled cupcakes on a wire rack set over parchment paper. Spoon 2 tablespoons of glaze over each cupcake, allowing it to drip down the sides.
Makes 12.
Jessica Webster leads the Food & Drink section for the AnnArbor.com community team. You can reach her at jessicawebster@annarbor.com.