Posted on
Fri, Dec 7, 2012 : 4:48 a.m.
Bouillabaisse - seafood soup provides instant aromatherapy
By Peggy Lampman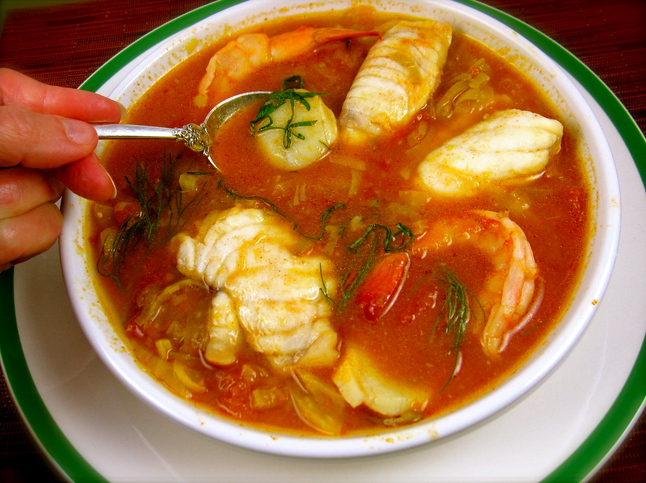 Peggy Lampman | Contributor

The new Holiday Cookbook answers all of your cooking needs. Strapped for time? Check out the well-tested Super-Simple section.
My custom concocted aromatherapy treatment is to deeply inhale the scent of fresh seafood simmering in a bath of saffron, garlic and fennel; otherwise known as Bouillabaisse; by any other name would smell as sweet.
Richard and I sawed down the perfect Douglas Fir at
Urquhart's Tree Farm
, and this soup was the perfect warm up dish to stringing lights.
Seafood soups and chowders taste so right at this time of the year; Cioppino and Oyster Stew are other traditional favorites.
Active time (not including stock preparation): 40 minutes

Simmer time: 40 minutes

Yield: 4-6
Ingredients
1/4 teaspoon saffron threads
1 1/2 cups dry white wine
3 tablespoons extra virgin olive oil
3 leeks
1 tablespoon minced garlic
1 teaspoon fennel seeds
2 fennel bulbs, cored, halved and sliced (reserve leafy fennel fronds for garnish)
4 1/2 cups fish stock*
1 can (28-ounce) crushed Italian plum tomatoes
12 raw jumbo shrimp
12 dry-packed scallops
2 pounds monkfish, filleted and cut diagonally into 3-inch strips
Grated zest of one orange
1/2 cup chopped fresh basil, optional
Cayenne
Instructions
1. Crumble saffron threads into wine and let steep.
2. In a heavy-bottomed stockpot, heat olive oil over medium-low heat. Sauté leeks with a pinch of kosher salt, about 5 minutes or until softened. Add garlic, fennel seeds and sliced fennel and sauté an additional 2 minutes, stirring. Add stock and simmer 5 minutes.
3. Add tomatoes, with liquid, and saffron-wine mixture. Stir and let simmer 30 minutes. (This can be made up to 36 hours in advance at this point.) Place monkfish pieces in hot broth and simmer for 2 minutes. Stir in shrimp and scallops and simmer until just cooked through, an additional 5-8 minutes. Stir in orange zest and season to taste with cayenne and kosher salt.
4. Ladle into bowls, garnish with fresh basil, if using, and reserved fennel fronds.
*If time allows, making your own seafood stock (or purchasing scratch-made stock from Monohan's) is worth the effort. I have made and enjoyed bouillabaisse using bottled clam juice or mixing a seafood base (such as Better than Bouillon) with water for the stock.
Peggy Lampman is a real-time food writer and photographer posting daily feeds on her website and in the Food & Grocery section of Annarbor.com. You may also e-mail her at peggy@dinnerfeed.com.