Posted on
Thu, Dec 1, 2011 : 8 a.m.
Boursin pasta is an easy main dish with a short list of ingredients
By Mary Bilyeu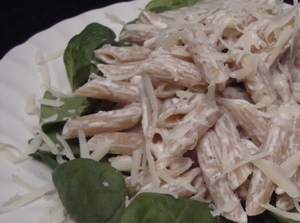 Mary Bilyeu, Contributor
It's hard to believe that something so creamy and so delicious could have only three — count 'em, three! — primary ingredients (not including seasonings)! But it's true. Dinner doesn't get much easier than this.
Boil water, cook pasta, stir in cheese, plop it all on top of spinach... that's it! And with the whole grain pasta and all those gorgeous green vegetables, it's even nutritious.
In the midst of all the holiday chaos, isn't it good to know you can still eat well without a huge investment of time? A good pantry (especially when you find the Boursin on sale and just wait for the right moment to use it!) can salvage any meal ....
Boursin Pasta with Spinach
2 cups whole wheat penne
half of a 5.2-ounce package Boursin Garlic & Fine Herbs cheese
pinch each of kosher salt and black pepper
3 cups baby spinach leaves
Parmesan cheese, for serving
Prepare pasta according to package directions; drain and return pasta to pot. Stir in cheese, salt and pepper. Divide spinach among two dinner plates and top with pasta. Sprinkle with Parmesan.
Serves 2.
I'll be keeping Office Hours at AnnArbor.com today, from 4-5 p.m. Come say "hi!" Give me Frugal Floozie Friday recommendations, tell me what you're serving for whichever upcoming holidays you're celebrating - just stop by, have a cup of coffee, hang out in the Community Space ....

Mary Bilyeu has won or placed in more than 60 cooking contests and writes about her adventures in the kitchen. She was thrilled to have her post about Scottish Oatmeal Shortbread named as one of the daily "Best of the Blogs" by the prestigious Food News Journal.
Go visit Mary's blog — Food Floozie — on which she enthuses and effuses over all things food-related. Her newest feature is Frugal Floozie Friday, seeking fun and food for $5 or less ... really! Feel free to email her with questions or comments or suggestions: yentamary@gmail.com.
The phrase "You Should Only Be Happy" (written in Hebrew on the stone pictured in this post) comes from Deuteronomy 16:15 and is a wish for all her readers as they cook along with her ... may you always be happy here.