Posted on
Thu, Jan 12, 2012 : 11:30 a.m.
Scarola e Faciole: White Bean and Escarole Soup with Homemade Pancetta
By Peggy Lampman
Peggy Lampman | Contributor

"Yumm... greens and beans," said our buddy Joe Spallina, inhaling the simmering pork and rosemary in my version of
Scarola e Faciole
, a thick, aromatic soup of
escarole and white beans
.
Joe is a technology wizard and pays my husband, Richard, and I an occasional visit, bestowing lessons and imparting kernels of wisdom to assuage our computer-challenged angst. He's never ruffled by our knitted brows, the insults we hurl at our dispassionate screens. He doesn't take this bad behavior personally. The very least I can offer is a dish I think he'd enjoy.
Joe told us the soup I made, as so many other Greens and Beans dishes, has its origins with Italians.
"Most of them were poor from the country," Joe said. "And many were farmers in one fashion or another."
Both of Joe's grandparents migrated to America from Sicily. I worried they might have taken offense to the liberties I took with my interpretation of this most beloved classic, particularly enjoyed in cold winter months. But my changes weren't too extreme: I used leeks instead of onions and added fennel to the brew.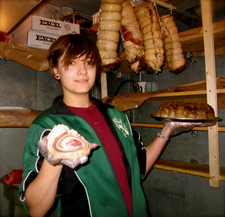 Peggy Lampman | Contributor
His grandparents would have certainly approved my choice of pancetta.
Mariam Maksutova, who works for Sparrow Meats in Kerrytown, makes this unsmoked Italian bacon. She is originally from Riga, Latvia, and studies the craftsmanship of the old world butcher.
"Charcuterie," Mariam said, "is an important skill for every butcher... helping us take another big step towards total utilization. It's a pretty awesome example of sticking with something from beginning to end."
She explained that the Sparrow philosophy is doing as much work with their meats, in-house, as possible to have a controlled, clean product.
To make the pancetta, she cures slabs of pork belly. The thick meaty pork seasoned with juniper berries, thyme, bay leaf and brown sugar imparted unctuous flavor to the soup I made. If fat is a concern, I left the pieces large in the following recipe, so they could be removed with ease — or not — before serving. The pancetta will have done much of its work. It may also be diced after removing and used as a garnish, as pictured above.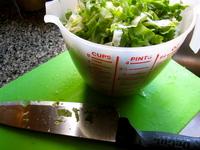 Escarole, a member of the chicory family, which includes frisee, endive and watercress, is considered a winter green because it grows in cooler climates. At this time of the year, my palate tires of the root vegetables and gourds of the season, and I crave greens such as this.
Common in European kitchens, escarole is not readily found in American produce departments; it' an unfamiliar green to many of us. Pity our produce managers, in their efforts to keep Ann Arbor's multi-cultured palate appeased, as well as conform to a store's profit margin expectations.
I fear escarole is one of those items that ends up as "grocery shrink", or rather "loss." Pity our palates, as well, for I've grown to love the slight bitterness of escarole, and I appreciate it's delicate firmness when cooking. I've noticed Hiller's regularly stocks escarole in the winter months when I'm craving this green.
For a quickie version of this soup, saute garlic, pancetta and pepper flakes in olive oil, stir in ribbons of escarole with a pinch of salt, and when wilted, add stock. Bring to a boil, simmer 10 minutes, then add canned white beans. Simmer an additional 10 to 15 minutes, or until escarole is tender, then smash some beans against the side of the pot the thicken the brew. Serve with grated Parmesan.
Scarola e Faciole; a palliative soup, a soup of therapeutic nuance and marvelous flavor that will soothe your winter soul, reminding you of our ancestor's great creations in the days long before iWhatevers.
Yield: 4-6 main course servings
Time to soak beans: 12 hours
Active time: 35 minutes
Total cook time: apx. 2 hours
Ingredients
1/4 cup extra virgin olive oil, plus extra oil for drizzling
2 cups chopped onion or sliced leeks (white and light green parts only, well-washed)
1 fennel bulb, stalks and core removed; chopped
1 heaping tablespoon finely chopped garlic
1/2 teaspoon crushed red pepper
2 (5-6 inch) sprigs fresh rosemary
1/2 pound pancetta, freshly cured if possible, and cut into 1-inch pieces
2 cups soaked, dried white beans, such as cannellini rinsed, soaked in water for 12-24 hours, then drained
12 cups (64 ounces) chicken stock
1 head escarole (3/4 pound), washed and sliced into thin ribbons (8 cups)
Parmigianno Reggiano
Directions
1. In a Dutch oven or heavy-bottomed pan, heat olive oil over medium heat.
2. Add the onions or leeks and fennel and cook with a pinch of kosher salt until just tender, about 5 minutes.
3. Stir in garlic, red pepper flakes, rosemary sprigs, and pancetta. Cook, stirring occasionally, 5 minutes.
4.Add the drained beans and chicken stock. Bring the liquid to a boil, reduce to a simmer, and cook until the beans are tender, 60-90 minutes. (At this point, the soup can be made 24 hours in advance, refrigerated.)
5. Remove and discard rosemary stem and larger rosemary leaves. If less fat is desired, remove pancetta. Pancetta may also be diced, at this point, and used as a garnish.
6. Using an immersion blender or a food processor, puree 1/2 of the beans to thicken the soup. Add the shredded escarole and cook until wilted and tender, about 30 minutes. Season to taste with kosher salt and freshly ground pepper.
7. Serve soup in bowls garnished with reserved chopped pancetta, if using that way, Parmesan and a drizzle of olive oil.
My new web site has recently been launched (www.dinnerFeed.com)! I'm a real-time food writer and photographer posting daily feeds on my website and in the Food & Drink section of Annarbor.com. You may also e-mail me at peggy@dinnerfeed.com.