Posted on
Tue, Sep 10, 2013 : 8 a.m.
Brandied apple coffee cake for Yom Kippur
By Mary Bilyeu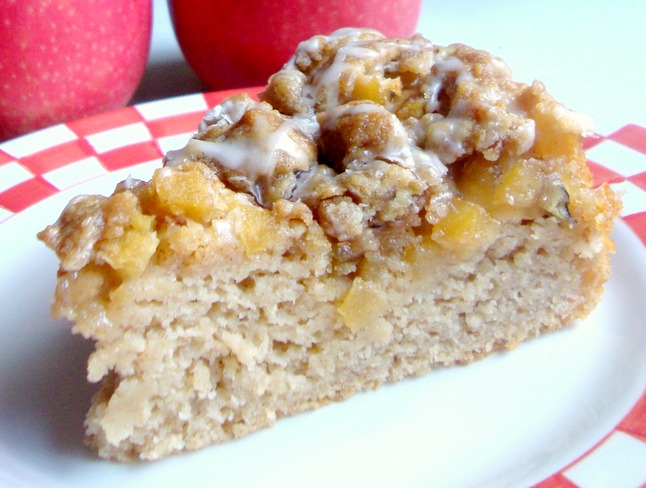 Mary Bilyeu, Contributor
This Apple Coffee Cake is an ideal sweet treat to enjoy while breaking the Yom Kippur fast on Saturday night. Prepared ahead of time, ready to slice and serve, this uses several variations on the apples traditionally offered at the holiday to usher in a sweet new year: apples themselves, applesauce, and apple juice.
After the night and day of fasting, introspection, study, and resolution during the Jewish Day of Atonement, gathering with family and friends to share a nosh is a lovely tradition. An array of dishes - nothing too heavy, of course - is offered, from salads to sweets. And this cake - which was described by one person as "amazing" - is ideal to serve.
It would also be great for a Sunday brunch, or to welcome friends and family who gather together before heading off to the football game. A perfect baked good for fall!
I brought the cake to work, to share it with my friends. I explained that I'd cobbled together several trusted recipes along with a few new ideas, but that I'd never made a coffee cake this particular way before. The response from the first taste tester?
"Do it again."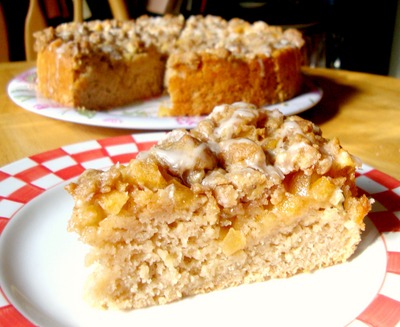 Mary Bilyeu, Contributor
Brandied Apple Coffee Cake
Apples:
2 tablespoons margarine
1/4 cup brown sugar
1 tablespoon brandy
1 large apple, peeled, cored, cut into 1/2-inch dice
In a large skillet, melt together margarine, brown sugar, and brandy over medium heat. Stir in apple pieces to coat, then cover and cook for 5 minutes. Uncover and cook, stirring occasionally, for 5 more minutes until liquid is absorbed. Set aside.
Streusel:
1/3 cup flour
1/3 cup brown sugar
1/4 teaspoon cinnamon
1/4 walnuts, chopped fine
1/4 margarine
1/2 tablespoon brandy
In a medium bowl, use a fork to stir together flour, brown sugar, cinnamon, and walnuts. Melt margarine and brandy together, then pour over dry ingredients; stir to combine well. Set aside.
Cake:
2-1/2 cups flour
1/2 teaspoon kosher salt
1/2 teaspoon cinnamon
2 teaspoons aluminum-free baking powder
1/3 cup sugar
1 cup unsweetened applesauce
1 cup apple juice
1 egg
Preheat oven to 350 degrees. Grease a 9-inch round baking pan.
In a large bowl, stir together flour, salt, cinnamon, baking powder, and sugar. In a large measuring cup, stir together applesauce, apple juice, and egg; stir liquid mixture into dry ingredients and combine well. Pour batter into prepared baking pan.
Carefully spread apples over top of the cake batter. Crumble streusel over the apples, then bake for 35-40 minutes until a tester inserted into the center of the cake comes out clean. Let cool completely.
Run a knife around the edge of the pan, then tip cake out onto a large plate. Place a serving plate over the bottom of the cake and turn it right-side-up.
Glaze:
1/4 cup confectioners' sugar
1 teaspoon apple juice
Stir together confectioners' sugar and apple juice in a small bowl. Drizzle over the cake, then let it set. Slice and serve.
Makes 12 servings.

Mary Bilyeu - a self-proclaimed Food Floozie (named for her blog, which is taking a summer vacation) - tells about her adventures in the kitchen. She is also on a mission to find great deals for her Frugal Floozie Friday posts, seeking fabulous food at restaurants on the limited budget of only $5 per person. Feel free to email her with questions, comments, or suggestions: yentamary@gmail.com.

The phrase "You Should Only Be Happy" (written in Hebrew on the stone pictured in this post) comes from Deuteronomy 16:15 and is a wish for all her readers - when you come to visit here, may you always be happy.