Posted on
Mon, Aug 22, 2011 : 8 a.m.
Bratwurst with peppers and onions made with love for a sick friend
By Mary Bilyeu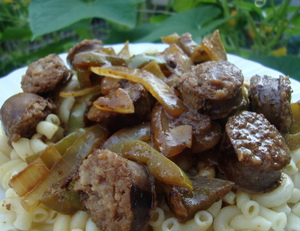 Mary Bilyeu, Contributor
Please note that this was written ahead of time, as I wouldn't be able to function if I didn't prepare at least one week ahead rather than trying to find time to post every single day! But sadly, the man I'm writing about — who was doing so beautifully just two weeks ago — has died quite unexpectedly; his funeral will be held this morning. I didn't have the heart to change the wording and update this piece, because we really did have a lovely afternoon the last time I saw him. I wanted that committed officially to cyberspace, where everything lives forever even though, in the real world, fragile human beings don't ....
A very dear friend's father spent six weeks in the hospital this summer, followed by an extended stay in a rehabilitation facility for a variety of therapies (physical, occupational, respiratory, etc.) He's now home and in good spirits... and he's quite chatty, which means he's in really good form! He's usually a man of few, but well-chosen, words.
But he's still quite weak, understandably. Thus his loved ones are on a mission to help him regain both the strength and the 25 pounds that he's lost.
This is a meat-'n'-potatoes kinda guy, who enjoys meatloaf but doesn't care about macaroni and cheese. And, according to his wife of more than 40 years, he loves any kind of sausage.
So I made this dish of bratwurst with onions and green peppers not only to provide an enticing encouragement for our patient to eat, but also so that there would be at least one meal this man's devoted wife — who not only coordinates his treatments, appointments and rides, but who even researched codes and protocols for a wheelchair ramp and designed their new one herself (he's so proud of her work!) — would not have to make in the midst of all the stress of setting up the couple's new routines.
I hope they both enjoyed a hearty meal that was easy to heat in the microwave. The only thing better might have been if they used paper plates to avoid dirty dishes!
Bratwurst with Peppers and Onions
5 links fresh bratwurst
2/3 cup green tea (or beer, though I didn't use it here to avoid med interactions)
1/2 cup water
1/3 cup brown mustard
1/4 teaspoon seasoned salt
1/4 teaspoon freshly ground pepper
1 yellow onion, halved, sliced
1 green pepper, halved, sliced
8 ounces macaroni, cooked
Brown bratwurst in a 10-inch skillet over medium heat. Add tea and bring to a boil. Lower heat to medium, then cook for 15 minutes turning bratwurst once halfway through the cooking time; most of the liquid should have evaporated. Remove bratwurst from the skillet and cut into 1/2-inch slices.
Add water to the skillet and stir to scrape up the bits from the bratwurst. Stir in the mustard, seasoned salt and pepper; cover and cook over medium heat for 10 minutes until vegetables are softening, stirring once or twice. Add the sliced bratwurst and cook for 5 more minutes.
Serve bratwurst and vegetables over macaroni.
Serves 4.

Mary Bilyeu has won or placed in more than 60 cooking contests and writes about her adventures in the kitchen. She was thrilled to have her post about Scottish Oatmeal Shortbread named as one of the daily "Best of the Blogs" by the prestigious Food News Journal.
Go visit Mary's blog — Food Floozie — on which she enthuses and effuses over all things food-related. Her newest feature is Frugal Floozie Friday, seeking fun and food for $5 or less ... really! Feel free to email her with questions or comments or suggestions: yentamary@gmail.com.
The phrase "You Should Only Be Happy" (written in Hebrew on the stone pictured in this post) comes from Deuteronomy 16:15 and is a wish for all her readers as they cook along with her ... may you always be happy here.