Posted on
Wed, Mar 14, 2012 : 4:13 a.m.
Brined, Grilled Pork Chops are perfect to celebrate spring-like weather
By Peggy Lampman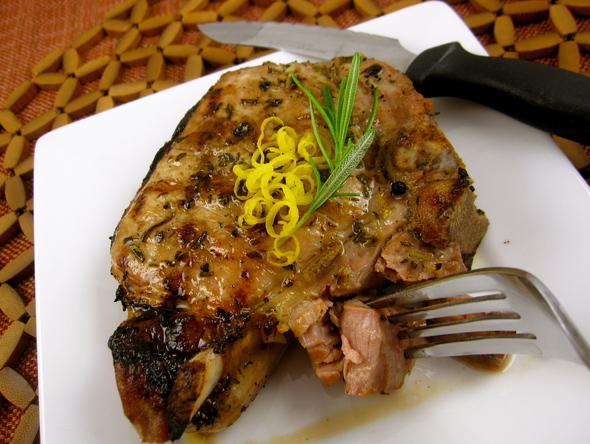 Peggy Lampman | Contributor

mean fighting machine!
I just spoke with my girlfriend in northern California; it's raining, cold and a general mess. For once Michigan weather holds the trump card, and I could boast about the crocus in bloom, and enjoy clusters of T-shirt clad kids pounding bongos at the Arb.
Spring has dropped by unannounced, catching us unaware — glorious! — with close to record-breaking temperatures day after day. A fine way to celebrate is to pull out the grill, and here's a favorite recipe for pork chops.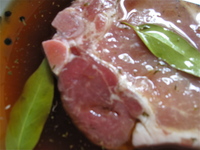 I'm not one of those brine-crazy folks, but when I grill thick pork chops, I generally brine them first, or they become dry and tough. (Unless, of course, I spring the bucks for small-farm, boutique chops, whose meat is marbled with flavor and unctous fat.)
Yield: 2 thick juicy chops


Brine Time: 3 hours

Time: 35 minutes
Ingredients

1/4 cup kosher salt

1/4 cup dark brown sugar

 1 teaspoon black peppercorns, crushed with the broad side of a chef knife

2 small bay leaves

2 bone-in pork chops, at least 1-inch thick

1/2 teaspoon lemon zest

1/2 tablespoon freshly lemon juice

1 tablespoon chopped fresh rosemary, plus extra sprigs for garnish

1 teaspoon extra-virgin olive oil
Directions
1. Dissolve salt and sugar in 1 cup hot water. Add peppercorns, bay leaves and 1 1/2 cups of very cold ice. (Note: Brine should be cold before inserting pork chops.)

2. Place pork chops in a large nonreactive container or extra-large resealable plastic bag. Cover with brine and allow to brine at least 1 1/2 hours but no longer than 3 hours.

3. In a small bowl, combine garlic, lemon zest and juice, pepper, rosemary and olive oil. Mash together with the back of a spoon.

4. Preheat gas or charcoal grill to high heat.

5. Remove chops from brine. Pat dry with paper towels. Spread paste on both side of chops. Grill 2-3 minutes per side to sear. Reduce heat or move to a cooler section of the grill and continue grilling 8-10 minutes per side.

 6. Remove from grill and tent with foil. Allow to rest 5 minutes before serving.