Posted on
Mon, Jun 10, 2013 : 4:11 a.m.
Southwest Brined & Grilled Turkey Breast Tenderloins - technique injects flavor and juiciness
By Peggy Lampman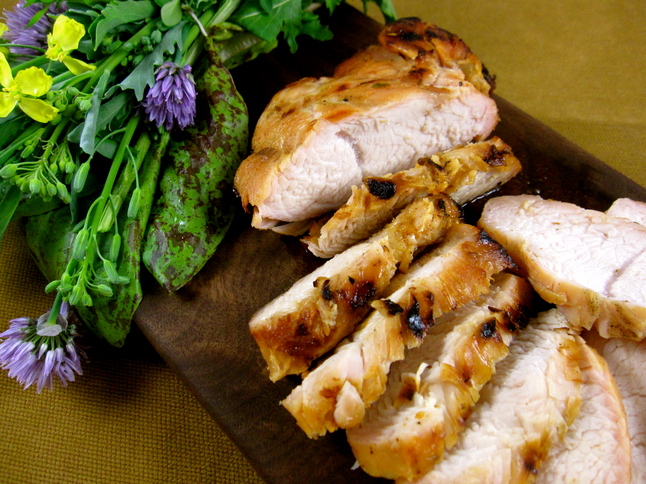 Peggy Lampman | Contributor

To receive my lastest dinnerFeed posts
by email, sign up here.
This is nothing particularly fancy; just a quick and easy, low-fat idea for the grill. Some grilled pineapple would have been a nice addition, in retrospect.

Several years back, brining poultry and pork was the culinary fad of the moment. Grocers, in fact, had a hard time keeping kosher salt on the shelf — especially around Thanksgiving when everyone was brining their turkey in (clean!) garbage cans and the like.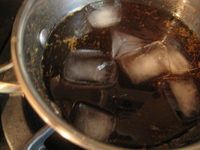 I, too, was brining away experimenting with a multitude of liquids and injections. Year have passed and I'm brining much less, having come to the conclusion that some circumstances make brining appropriate, but for others, why bother. Especially since brining alters the texture of chicken and pork and it's so easy to over-brine, rendering the pork or poultry overly salted and rubbery.
The basic reason for brining is that it makes a dry item juicy. There's science behind this, of course, and for more information check out Alton Brown. But if the chicken (think dark meat, skin-on) or pork is somewhat fatty, I never brine; it will be juicy enough as long as I don't overcook it. But if I have lean pork chops, for example, and I plan to grill them, a seasoned brine is a great idea for injecting flavor and juiciness. Same with boneless, skinless chicken breasts and, per the recipe below, turkey tenderloins.
Use whatever Southwest blends you have on hand that you need to use up to equal 4 teaspoons. I really enjoyed the flavor of the chipotle pepper, personally.
.
FYI: Water used should be icy cold so you don't partially cook exterior of tenderloin when brining. Adding the ice is a quick method of chilling but you could dissove the in 2 cups boiling water and allow the liquid to thoroughly chill before brining.
Yield: 4 servings

Brining Time: 2 hours

Grilling Time: 16-20 minutes
Ingredients
3 tablespoons kosher salt

1/2 cup brown sugar

1 cup boiling water

4 teaspoons Southwest seasoning*

1 cup ice

2 turkey breast tenderloins (1 1/2-2 pounds, total)
*make sure your seasoning mix is unsalted
Directions
1. Dissolve salt and sugar in hot water. Stir in 2 1/2 teaspoons Southwest seasoning blend and allow ice to melt. When liquid is cold, pour into a gallon-size resealable plastic bag or bowl; place tenderloins in brining mixture. Seal bag or cover bowl with saran and refrigerate two hours.

2.Remove from fridge, pat dry and rub remaining seasoning over tenderloins.

3. Prepare gas or charcoal grill to medium heat. Cook, covered, over medium high heat 8-10 minutes per side.
*See above notes. I used a chipotle chili blend and good quality (sodium free) Mexican spice blend.
Peggy Lampman is a real-time food writer and photographer posting daily feeds on her website and in the Food & Grocery section of Annarbor.com. You may also e-mail her at peggy@dinnerfeed.com.