Posted on
Thu, Nov 8, 2012 : 1:27 p.m.
Broccoli pesto quiche is a quick and easy weeknight meal solution
By Jessica Webster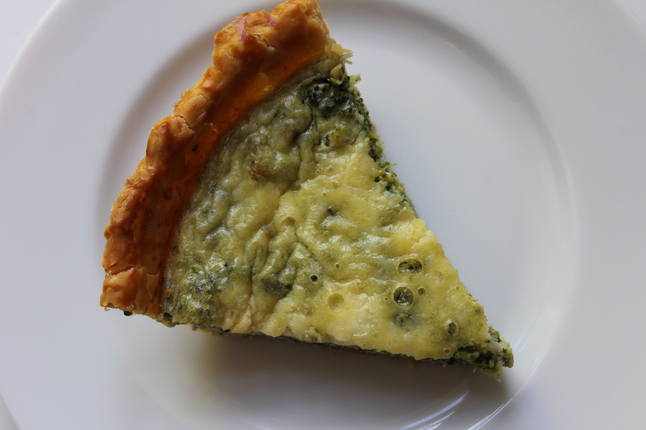 Jessica Webster | AnnArbor.com
We've embarked on a home renovation, and it's both an exciting and terrifying experience. Exciting because I will finally get a kitchen with adequate light, counter space and cabinet space. Terrifying because, well, renovations are scary and full of unknowns. Friends tell me to expect everything to take longer and cost more than the contractor is telling us. Yep, that's scary.
As we get the kitchen ready for demolition, I've been slowly working my way through most of the food in the refrigerator. A few nights ago I was down to half a bunch of broccoli, an open jar of pesto, a hunk of parmesan, half-and-half and some eggs. Easiest dinner decision ever.
Quiches, of course, are a brilliant way to use up bits of leftovers. Have a few pieces of chicken or bacon? Cheeses? Veggies? They're almost all going to taste even better in a quiche. Even leftover mashed potatoes make an excellent quiche crust.
Broccoli Pesto Quiche - based loosely on a recipe from Gourmet Magazine
Ingredients
1 recipe single-crust pie dough, or favorite store-bought refrigerated pie crust
2 to 3 cups broccoli florets (with 1 inch of stem attached)
6 large eggs
1 cup milk or half-and-half
3 to 4 tablespoons basil pesto
salt and freshly ground pepper to taste
1/3 to 1/2 cup grated Parmigiano-Reggiano
Preparation:
Preheat oven to 375 degrees, with rack in middle.
Roll out pie dough and fit into pie plate, letting excess hang over edge. Fold the overhanging dough inward and press against side of pie plate to reinforce the edge. Prick bottom all over with a fork. Chill until firm, about 30 minutes.
Bake shell until deep golden all over, 15 to 20 minutes, then remove from oven. Leave oven on.
While shell bakes, cook broccoli in a 3-quart pot of boiling salted water 4 minutes. Drain broccoli and rinse under cold water to stop cooking, then pat dry.
Whisk together eggs, half-and-half (or milk), pesto, salt and pepper in a large bowl until smooth.
Pour filling into pie shell and add broccoli, then sprinkle with parmesan.
Bake quiche until custard is just set, 45 to 50 minutes. (Center will tremble slightly; filling will continue to set as it cools.) Cool for 20 minutes.
Serve quiche warm or at room temperature.
Quiche can be baked 1 day ahead and chilled. Reheat, uncovered, in a 325 degree oven, about 25 minutes.
Basil Pesto (recipe by Mark Bittman) :
2 loosely packed cups fresh basil leaves, big stems discarded
Salt to taste
1/2 to 2 cloves garlic, crushed
2 tablespoons pine nuts or walnuts, lightly toasted in a dry skillet
1/2 cup extra-virgin olive oil, or more
1/2 cup freshly grated Parmesan or other hard cheese
Combine the basil, salt, garlic, nuts and about half the oil in a food processor or blender. Process, stopping to scrape down the sides of the container occasionally, and adding the rest of the oil gradually. Stir in the parmesan by hand just before serving. Makes about 1 cup. Leftover pesto can last in the fridge for a week or two, covered in plastic.
Jessica Webster leads the Food & Grocery section for AnnArbor.com. Reach her at JessicaWebster@annarbor.com. You also can follow her on Twitter or subscribe to AnnArbor.com's email newsletters.