Posted on
Thu, Mar 8, 2012 : 11:45 a.m.
Grecian-Styled Fish baked in Paper (en papillote) - a satsifying meal for a Lenten weekend
By Peggy Lampman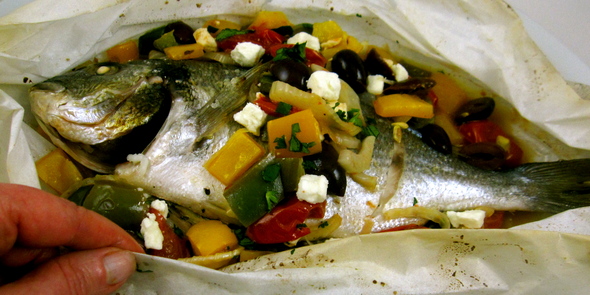 Peggy Lampman | Contributor

mean fighting machine!
"My recollection of fasting during The Great Lent is abstinence of meat on Wednesday, being the day Judas made his bargain to betray Christ, and Friday, his crucifixion." This is how Katherine Zikakis, a member of the Greek Orthodox Church, explained her Lenten traditions to her daughter Stephanie Teague, of Ann Arbor.
"I want to remind you that these are rules my mother taught me," continued Katherine. "You will remember that she was not a great church-goer, but she might have remembered the rules that were taught to her."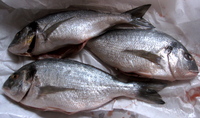 According to Wikipedia, Lent is the Christian observation of the liturgical season from Ash Wednesday to Holy Thursday, followed by Good Friday and Easter, when many of the faithful give up luxuries as a form of penitence.
"During The Great Lent meat, fish — with the exception of shellfish — dairy products and olive oil are avoided Monday through Friday; fish is allowed over the weekend," Katherine told her daughter. "Often the beloved Father Sam said, 'These are rules made by man, not God.' How all this aligns with the teachings of Greek Orthodoxy must remain a mystery."
I developed the following recipe with Katherine's weekends in mind.
Katherine, whose family is from a village on the Peloponnesian peninsula, raised her family in Birmingham, Mich. during the 50s, 60s and 70s. Stephanie ate whole fish, usually porgies, whenever her mom could find them —often a challenge back then.
"Whole fish were sometimes available at Gratiot Market, and we also found them in Greektown, when we shopped for lamb, bread, olive oil, cheese, olives, halvah and figs."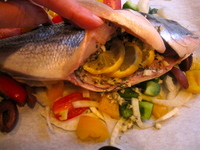 "When my grandmother would visit us from New Haven, Connecticut at Christmas and Easter," said Stephanie, "she would often bring fish with her, wrapped tightly and packed in her gray Samsonite suitcase, or sometimes packed in a sturdy cardboard box tied with twine. Imagine the havoc created when that box was lost and found some days later in Birmingham, Ala!"
Stephanie said her mother and grandmother scored the skin and flesh on both sides on a diagonal with a sharp knife in three places — always three, even if the fish were tiny. Then, the fish went into a broiler pan, "...lined up like little soldiers," drizzled with a mixture of lemon juice, olive oil, oregano and garlic, then broiled about 10 minutes.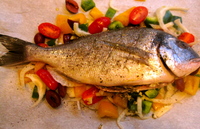 "I learned the anatomy and bone structure of fish by eating them whole; how to eat the fillet off the bone by lifting and removing the head, skeleton and tail in one piece, leaving a perfectly de-boned fillet intact. I loved the succulent pockets of sweet meat by the gills; I was a child, and didn't know some people thought eating a whole fish was disgusting."
Fortunately for us, whole fish can be found in many seafood counters about town. I decided to bake a fish, plaki-style (the Greek technique of smothering a food in herbs and vegetables before cooking), and baked it in paper — en papillote — to trap the savory juices. Mike Monahan, owner of Monahan's Seafood, suggested Orata, a wildly popular fish in the Mediterranean region. Its rich buttery flavor and high meat to bone ratio was outstanding in this preparation.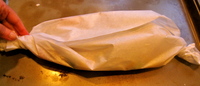 The General Manager of Real Seafood, Barb McCoy, says their restaurant is quite busy during the Lenten season. If you'd like to try a whole fish without the fuss, the restaurant offers char-grilled Branzini, a Mediterranean sea bass, seasoned with olive oil, garlic, lemon and oregano; Katherine must have shared her recipe.
Steamed rice is perfect for soaking up the delicious juices from the vegetables and fish.
Ingredients
1 small fennel bulb, thinly sliced ( 1 1/2 cup)
1 small green bell pepper, cut into 1/2-inch dice (1 cup)
1 small yellow bell pepper, cut into 1/2-inch dice (1 cup)
1 cup halved cherry tomatoes
1/2 cup halved kalamata olives
Parchment paper cut large enough to wrap around fish, twisting ends
2 1/2-3 pounds (2-3 whole) Mediterranean fish* cleaned and gutted
1 1/2 tablespoons minced garlic
Several sprigs of oregano, or 1 tablespoon dry
Several slices lemon, cut in half plus 3 tablespoons lemon juice
4-6 tablespoons extra virgin olive oil
1/3 cup diced or crumbled feta
1 tablespoons chopped parsley

*I used Orata but Bronzini or Red Snapper would also be a good choices.
Directions


1. Preheat oven to 400 degrees.

2. Combine fennel, peppers, tomatoes and olives. Set aside.

3. Cut 2-3 sheets of parchment paper, one per fish, large enough to completely wrap around the fish with extra paper at ends to twist. Divide and center the vegetable-olive mixture on top of each piece of paper.

4. Wash and dry the fish. With a sharp knife, score the fish on 1 side by cutting three slits into the flesh. Season fish, inside and out with kosher salt and freshly ground pepper. Center fish on top of vegetables, scored side up, and stuff the inside of the fish with garlic, oregano and lemon slices.

5. Drizzle lemon juice and 2 tablespoons olive oil over each fish; enclose fish with paper by twisting ends together. (Fish may be prepared to this point and refrigerated several hours prior to cooking.) Place on baking sheet and cook on center rack of oven 15-25 minutes, or until fish is white to the bone.

6. Combine feta and parsley. Each "bundle of joy" may be placed on individual platters for serving. Diners may open package at the table, then sprinkle parsley-feta mixture over fish, as desired.