Posted on
Tue, Feb 14, 2012 : 9 a.m.
Brownie in a mug for one special person
By Mary Bilyeu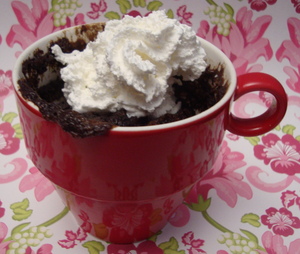 Mary Bilyeu, Contributor
Today is Valentine's Day, as I'm sure most of us know. (If you're the clueless guy who's missed all the ads, all the pink and red decorations in stores, and all the hints from your better half, you'd better run and try to save yourself!)
If you're in a relationship and can expect to receive roses or candy or jewelry or a mushy card — or all of the above — that's great. But we've all been through Valentine's Days alone, and it's so hard when you feel left out, when there are no heart-shaped boxes of chocolates or bouquets of beautiful flowers for you.
And I think it's undoubtedly hardest for those who've been widowed, who won't ever see the loves of their lives again in this life.
I know a woman who lost her husband of nearly 50 years this past summer. I visited with her recently, and her heart is utterly broken. I can't imagine how difficult the past few weeks of build-up and onslaught have been for her, let alone how painful today will be as society pointedly reminds her, and others like her, of their aloneness.
While others may be offering romantic recipes for candlelit dinners, I want those who are alone on Valentine's Day — those who are wistful about being alone on Valentine's Day, I should clarify — to know that I offer my sympathy. So much of a fuss is made about this "Hallmark holiday," with no thought to those who are taunted about not being part of the "in" crowd.
And so today I'm offering a recipe that serves one — one very special, one fabulous, one perfectly glorious person... you!
There's no reason you should be denied your chocolate fix. There's no reason you shouldn't get to enjoy something special. This "Brownie in a Mug" recipe offers no expectation that there should be someone else to share it with. And it also doesn't offer an entire pan of brownies to lure you into the temptation of eating too many.
Today is a day where you'll be thinking of the one you've lost, the one whose hand you wish you could be holding, the one whom you wish you could still say "good morning" and "goodnight" and — especially — "I love you" to. You deserve your very own personal chocolate brownie, warm and rich, just to make you smile and feel special.
Brownie in a Mug
2 tablespoons flour
2 tablespoons sugar
1-1/2 tablespoons cocoa powder
1/2 teaspoon baking soda
pinch of kosher salt
1-1/2 tablespoons oil
3 tablespoons milk
1 tablespoon flavoring (vanilla, coffee, rum, liqueur, etc.)
whipped cream, for serving
Combine all ingredients in a microwave-safe mug; stir to combine well. Microwave on "high" for 90 seconds, until the brownie is set and looks as though it was baked. Let rest for 1 minute; it will sink a bit. (This isn't a stellar specimen of aesthetic beauty, but its luscious flavor makes up for that!)
Top with whipped cream, if desired.
Serves 1 exceptional person who deserves a treat today.

Mary Bilyeu writes about her adventures in the kitchen - making dinner, celebrating holidays, entering cooking contests ... whatever strikes her fancy. She is also on a mission to find great deals for her Frugal Floozie Friday posts, seeking fabulous food at restaurants on the limited budget of only $5 per person. Feel free to email her with questions or comments or suggestions: yentamary@gmail.com.
You should also visit Mary's blog — Food Floozie — on which she enthuses and effuses over all things food-related.


The phrase "You Should Only Be Happy" (written in Hebrew on the stone pictured in this post) comes from Deuteronomy 16:15 and is a wish for all her readers - when you come to visit here, may you always be happy.