Posted on
Mon, Nov 14, 2011 : 8 a.m.
Brussels sprouts with chorizo - resist this cute, nutritious vegetable no longer
By Mary Bilyeu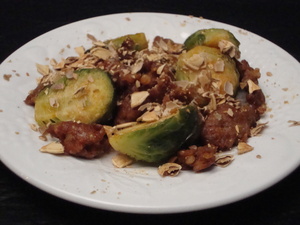 Mary Bilyeu, Contributor
I happen to be one of those odd people who like Brussels sprouts. I may be gauging things incorrectly, because I know so very few others who will eat them, but it seems I'm in a distinct minority.
I'd say that this was okay, leaving all the more for me. But c'mon! They taste good, they're nutritious, and they're so easy to prepare. They're even cute — little baby cabbages that they appear to be (since they belong to the same family).
But if you need a bit more than just butter and salt on the Brussels sprouts to entice you to eat them, then here's a dish that might lure you in.
Simply boil the sprouts to prep them a bit, then saute them with some good spicy chorizo. I happened to still have some toasted pumpkin seeds loitering in my kitchen after Halloween, so I sprinkled a few of them over everything for a bit of extra flavor. The dish is fine without them, but they certainly enhance it.
If you usually dislike Brussels sprouts, or know of others who do, then try this recipe — you may just find you can't resist them anymore!
Brussels Sprouts with Chorizo
8 ounces Brussels sprouts
1 ounce bulk chorizo (pork or soy)
3/4 teaspoon kosher salt
1/4 cup toasted pumpkin seeds, finely chopped
Fill a medium saucepan with water and bring to a boil; add the Brussels sprouts and cook for 10 minutes, then drain. Slice them in half vertically, through the stem end.
In a large skillet, cook the chorizo over medium heat for 5 minutes, breaking it up as you cook it. Add the Brussels sprouts and the salt; cook for 10 more minutes, stirring occasionally, until the vegetables are tender and the sausage is well-browned. Sprinkle with the pumpkin seeds.
Serves 2-4 as either a light entree or a side dish.

Mary Bilyeu has won or placed in more than 60 cooking contests and writes about her adventures in the kitchen. She was thrilled to have her post about Scottish Oatmeal Shortbread named as one of the daily "Best of the Blogs" by the prestigious Food News Journal.
Go visit Mary's blog — Food Floozie — on which she enthuses and effuses over all things food-related. Her newest feature is Frugal Floozie Friday, seeking fun and food for $5 or less ... really! Feel free to email her with questions or comments or suggestions: yentamary@gmail.com.
The phrase "You Should Only Be Happy" (written in Hebrew on the stone pictured in this post) comes from Deuteronomy 16:15 and is a wish for all her readers as they cook along with her ... may you always be happy here.