Posted on
Wed, Apr 28, 2010 : 4:47 p.m.
Bubble Island: A perfect study break snack
By Sarah Mintz
Bubble tea is becoming as ubiquitous as sushi on campus in Ann Arbor; there are three establishments serving it on South University alone. Still, somehow I have managed to go four years without stepping foot into any of them, including the longstanding Bubble Island. Located on the corner of South University and South Forest, Bubble Island serves a variety of Taiwanese drinks, snacks, frozen yogurt and desserts.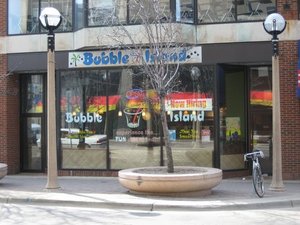 Originating in Taiwan, bubble tea is a sweetly flavored tea drink mixed with fruit or milk and usually contains small tapioca balls called "boba." The chewy tapioca balls sit at the bottom of the drink and are sucked up through a large, wide straw. During finals week, I decided to bypass my caffeine fix at Starbucks and instead stopped in at Bubble Island for an afternoon snack.
On my visit, I ordered popcorn chicken, green tea mochi ice cream and an almond milk tea with black pearls.
The deep-fried popcorn chicken, a popular snack in Taiwanese culture, was spiced with salt, pepper and five-spice powder and then dipped in flour to give it an extra-crisp yet delicate breading. Each order comes with a choice of sauce: BBQ, marinara, ranch, honey mustard or sweet and sour. I opted for honey mustard. Because the chicken was basically "popcorn" size, I unintentionally started popping the miniature bites into my mouth as if they truly were popcorn. I absolutely devoured this tasty snack, even down to the remaining pieces of fried batter at the bottom. My popcorn chicken was a hot, fresh and filling snack that balanced well with my cold bubble tea. I just will choose not think about the health factor.
The green tea mochi ice cream, a classic Asian dessert, was unlike anything I had eaten before. Mochi is a sweet Japanese rice cake that gets pounded into a paste-like substance and, for this dessert, molded around a ball of ice cream. Bubble Island offers many ice cream flavors including vanilla, chocolate, mango, red bean and coffee. My $.94 mochi was about the size of a golf ball and whether or not it was meant to be handled, I turned it into a finger food. My mochi did not have an overpowering sweetness because the doughy shell was only slightly flavored, but after my second bite I reached the inner ice cream filling to get the full flavor effect. To my disappointment, it lacked the "full flavor effect." The ice cream tasted more like a cold paste, and the artificial flavoring of the green tea was quite unsatisfactory. I was most turned off by the texture of the mochi, which was at best a chewy, sticky little ball of dough. Nonetheless, I am glad I tried the mochi and recognize it as more of an acquired-taste type dessert enjoyed by many others. And anyway, the mochi was a nice coating to keep the ice cream from melting onto my fingers.

Sarah Mintz | Contributor
Upon ordering my almond milk tea, the server offered me premium colored pearls, which are said to have a chewier texture and taste almost like cotton candy, for an extra $.10. I opted out. For this drink, almond powder was added.
My tea was fine. The look of the drink itself was unique and definitely both cold and refreshing; however, it was not overly sweet or flavorful. Even with the added powder, I did not taste a significant almond flavor. My least favorite part about the drink was the marble-sized tapioca pearls. The consistency of the "boba" pearls was somewhere between gummy bears, jell-o and bubble gum; worst of all, they were tasteless. My least favorite part was when a "boba" would get stuck inside the straw so that no liquid could get through. Again, I recognized my drink as more of an acquired-taste concotion that many other people enjoy; however, for me it turned into more of a production than a delight.
Nonetheless, I enjoyed the atmosphere. Even though it was mid-afternoon during a week of finals, Bubble Island was buzzing with customers. The service, friendly and fast, made for quick turnover on low margin, inexpensive menu items and created a lively and fun ambiance.

Sarah Mintz | Contributor
Even while service is fast, the staff by no means wants its customers to head right back out the door. Bubble Island offers a comfortable seating area with tables, chairs and a few cushioned benches and couches. Also, customers can chose from an array of board games to accompany their snacks including Monopoly, Chess, Uno, Jenga, Connect Four and Guess Who?. While studying might seem like a feasible option, the crowd oftentimes can get quite loud, especially when the Jenga tower crumbles, someone's iron gets sent to jail, or when a friend discovers that Max, indeed, does have facial hair.
Bubble Island is open late, until at least 2 a.m. every day, providing late night bar-hoppers on South University a great place to stop in for a quick bite to eat before heading home. Because of its hours, Bubble Island also stands as a wonderful weeknight hang-out for friends who want to play games in a setting outside of their dorm or just grab a snack like the Korean-style frozen yogurt "made fresh daily from real yogurt" that starts at only $2.45 for a 8-ounce cup. Toppings are $.75 and range from blueberries and crushed Oreos to "mango stars" and "lychee jellies".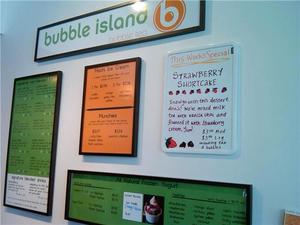 Sarah Mintz | Contributor
Although Bubble Island could use a face lift, there is a sort of old-school charm that it maintains. There is no other place on campus like Bubble Island, and even though the new
Mo Mo Tea
across the street may be more "modern" and "inviting," I'd suggest that Bubble Island's décor and longstanding college atmosphere is one of its unique competitive advantages.
I enjoyed my afternoon study break at Bubble Island. With more than 24 tea options, I would be interested in coming back to try some flavor combinations or maybe one of the drinks entirely without tapioca bubbles, such as those with lychee, mango and rainbow flavored jellies. There are also interesting specials every week, such as the strawberry cheesecake dessert drink made of mixed-milk tea with vanilla chai, strawberry cream and "boba" for only $3. I walked out with a fresh hole in my new punch card; only four more drinks until I get one free.

Bubble Island
Address: 1220 S. University Ave, Ann Arbor, MI 48104
Telephone: 734-222-9013
Hours: Mon-Thu 11 a.m. - 2 a.m., Fri-Sat 11 a.m.- 3 a.m., Sun noon - 2 a.m.
Price: Inexpensive
Payment: Credit or cash
Parking: Street
Wheelchair Accessible: Yes
Outdoor Seating: No
Wi-Fi: No
Catering: Yes
Sarah Mintz is a contributor to AnnArbor.com's Food and Drink section. She is a senior at the University of Michigan's Ross School of Business. You can follow Sarah's other dining blog and contact Sarah at smintz@umich.edu.