Posted on
Mon, Sep 17, 2012 : 10:25 a.m.
Buffalo Chicken and Pasta Casserole satisfies craving for wings
By Peggy Lampman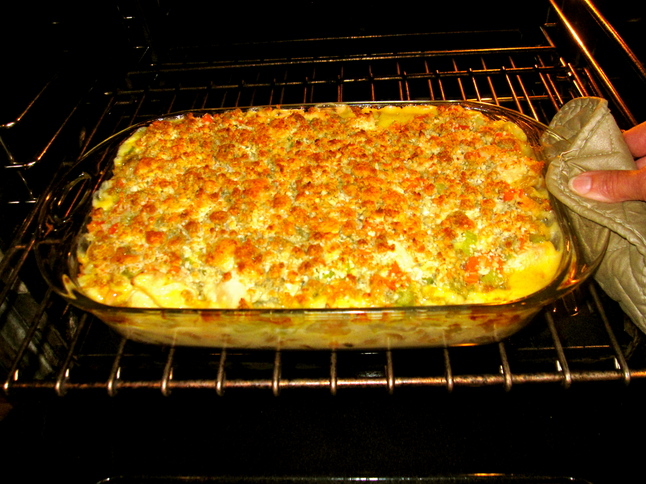 Peggy Lampman | Contributor

My dinnerFeed web site is a lean,
mean fighting machine!
To receive my lastest dinnerFeed posts
by email, sign up here.
One way to quieten me is by placing a plate of greasy, meaty Buffalo Chicken Wings, blue cheese dressing paired with celery sticks, and a jar of Franks Red Hot under my nose. You won't hear a word until there's a plate of bones by my side, and I don't like sharing.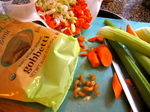 Problem is, a good craft brews goes down so easily with this dish, and the combination of wings and beer guarantee that what's left of the day will likely be spent playing Angry Birds.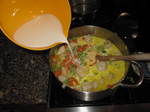 I found a recipe online (EatingWell: September/October 2010), which satisfies the craving somewhat — I did miss the greasy fat — yet the caloric reduction left me energy to write this blog. It strikes me that this recipe would be a fine complimentary football watching casserole. May I have that beer now?
(Notes: I made the following changes to the original recipe. I used whole wheat gobbetti pasta, similar to cavatappi, instead of elbow noodles, 1 chopped leek instead of 1 large onion, increased the blue cheese, using gorgonzola, and added panko for a crisp texture. Make ahead: In Step 2, cook the noodles 4 minutes less than package directions. Prepare through Step 4, cover and refrigerate up to 24 hours in advance day. Let stand at room temperature for 30 minutes, then bake according to directions, noting it may take longer to cook.)
Yield: Approx. 10 servings (leftovers great reheated the next several days)


Ingredients:
12 ounces (4 cups) dry whole-wheat gobbetti (see above notes)
2 tablespoons canola oil
3 medium carrots, sliced
3 medium stalks celery, sliced
1 large leek, chopped
1 tablespoon minced garlic
2 pounds boneless, skinless chicken breast, trimmed and cut into 1-inch cubes
1/3 cup cornstarch
4 cups low-fat milk
3-5 tablespoons hot sauce, preferably Frank's Red Hot
1 cup (about 6 ounces) crumbled Gorgonzola or blue cheese
1/2 cup panko (Japanese bread crumbs)
Directions:
1. Preheat oven to 400 degrees.
2. Bring a Dutch oven of water to a boil. Cook noodles until barely tender, about 2 minutes less than package directions. Drain, rinse and set aside.
3. Heat oil in the pot over medium heat. Add carrots, celery, leeks and garlic (about 7-8 cups total) and cook until beginning to soften, about 5 minutes. Lightly season chicken with kosher salt, add to pot, and cook until no longer pink on the outside, 5 to 7 minutes.
4. Whisk cornstarch and milk in a medium bowl; add to the pot. Bring to a boil over medium-high heat, stirring often, until bubbling and thick enough to coat the back of a spoon, about 4 minutes. Remove from the heat and stir in 3 tablespoons hot sauce. Taste and add kosher salt and additional hot sauce to taste. Spread the noodles in a 9-by-13-inch (or similar 3-quart) baking dish. Top with the chicken mixture. Combine blue cheese and panko and sprinkle over casserole.
5. Bake the casserole on the center rack of oven until breadcrumbs are golden brown, about 15 minutes. Remove, lightly tent with foil, and return to the oven and bake until it is bubbling, an additional 5-10 minutes. Let stand for 10 minutes before serving.
Peggy Lampman is a real-time food writer and photographer posting daily feeds on her website and in the Food & Grocery section of Annarbor.com. You may also e-mail her at peggy@dinnerfeed.com.