Posted on
Fri, Nov 9, 2012 : 2:15 p.m.
Buttermilk Pancakes with Apple-Maple Syrup and Pecans features flavors of autumn
By Peggy Lampman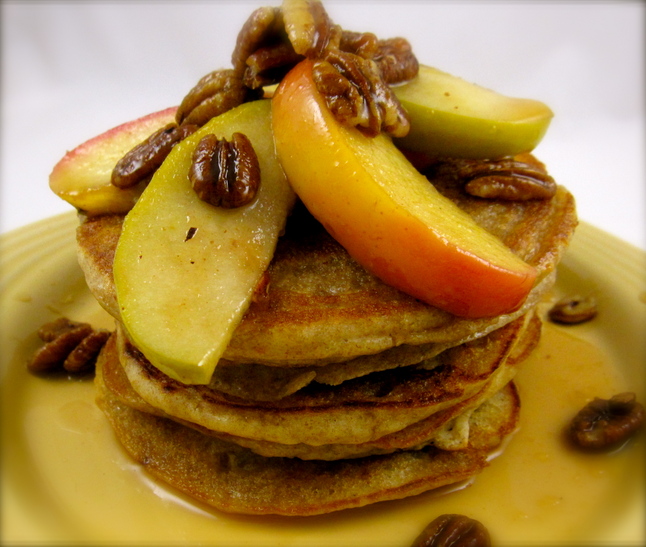 Peggy Lampman | Contributor

My Holiday Cookbook may be of assistance in your celebration strategies. Strapped for time? Check out the well-tested Super-Simple section.
This, for me, the the ultimate autumn breakfast, or dinner, or lunch. You could make the pancakes from a box, but the main ingredients required are flour, baking soda, baking powder and sugar — they may be staples in your cupboard.
Wallet-friendly pancakes are religious food and celebration food — and if you go to a pancake house or buy frozen pancakes, they are fast food. But tonight they are comfort food, as winter knocks on the front door.
Time: 45 minutes
Yield: 12 pancakes with Apple-Maple Syrup
Ingredients
3/4 cup all-purpose flour
3/4 cup whole-grain pastry flour or whole-wheat flour
2 tablespoons light brown sugar
1-1/2 teaspoons baking powder
1 teaspoon baking soda
1/2 teaspoon kosher salt
2 large eggs
1 3/4 cups buttermilk*
1 1/2 tablespoons melted unsalted butter
1 recipe for apple-maple syrup with pecans (see below)
Instructions
1. Preheat oven to 200 degrees.
2. In a large bowl, whisk together the flours, brown sugar, baking powder, baking soda, and salt. In a medium bowl, beat together the eggs and buttermilk.
Coat a large nonstick griddle or skillet with oil or cooking oil spray and heat over medium-low heat. Stir the wet ingredients into the dry ingredients then stir in melted butter.
3. Heat a griddle or large skillet to medium heat. Coat with canola oil or cooking oil spray. Using a 1/3-cup measure, ladle batter onto hot skillet. Cook pancakes 3-5 minutes or until bubbles are forming on top and bottom is golden brown. Flip the pancakes and continue cooking until golden brown on both sides.
4. Keep the pancakes warm in a 200-degree oven as you finish cooking the remaining ones. Reheat the Apple-Maple Syrup and serve over hot pancakes.
*I used a 16 ounce bottle of Guernsey Farms Dairy buttermilk, produced in Northville.
Ingredients for Apple-Maple Syrup
1/2 cup pecans or walnuts
2 tablespoons unsalted butter
3-4 large apples (1 1/2 pounds), cored, cut into 1/2-inch-thick slices*
3/4 cup pure maple syrup
1/2 teaspoon ground cinnamon, freshly ground preferred
Instructions
1. In a large sauté pan over medium-low heat, toast pecans or walnuts in dry pan until fragrant and lightly toasted, about 3-5 minutes. Remove from pan and reserve.
2. Melt butter in same pan. Sauté apple slices until just tender, about 8 minutes. Stir in syrup, cinnamon and toasted pecans. Reserve to serve with pancakes.
*I used an apple corer then cut lengthwise into smaller slices
Peggy Lampman is a real-time food writer and photographer posting daily feeds on her website and in the Food & Grocery section of Annarbor.com. You may also e-mail her at peggy@dinnerfeed.com.