Posted on
Tue, Feb 5, 2013 : 10:45 a.m.
Buttermilk pudding cake saves the day
By Kim Bayer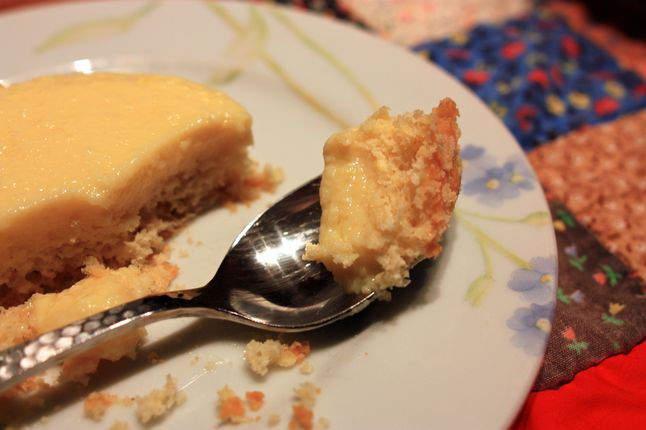 Kim Bayer | AnnArbor.com Contributor
Through a series of unintended events (i.e., regularly scheduled Calder deliveries) I've somehow amassed a hoard of buttermilk — one gallon to be exact, in quart bottles. The situation is getting desperate, we're up to our eyeballs here. So I've been racking my brain for all the things I know that use buttermilk.
I've come up with a few items like: buttermilk blue cheese salad dressing, buttermilk waffles, cornbread with buttermilk and perhaps best of all: buttermilk pudding cake.
As light as a fresh snowfall and as comforting as a warm bath, a pudding cake is delicate and airy on top and tender and custardy on the bottom. You can make it in 10 minutes. While it's baking, pull some of the berries you froze last summer from the freezer and stew them into a sunny conserve (or just take some jam from the pantry).
Put a dollop of jam on your buttermilk pudding cake, and that's one more night that you don't have to resort to filling the tub for a buttermilk bath.
Buttermilk Pudding Cake (from Epicurious)
1/4 cup all-purpose flour
1/4 teaspoon salt
1 1/3 cups well-shaken buttermilk
1/2 stick butter, melted and cooled
3 large eggs, separated
2/3 cup sugar, divided

Preheat oven to 350 degrees with rack in middle. Butter a 1 1/2-quart shallow baking dish.
Whisk together flour and salt in a large bowl. Whisk together buttermilk, butter, yolks, and 1/3 cup sugar in a separate bowl, then stir into flour mixture.
Beat egg whites with an electric mixer at medium speed until frothy. Increase speed to medium-high and add remaining 1/3 cup sugar, 1 tablespoon at a time, beating until whites just hold stiff peaks.
Stir about one third of whites into batter to lighten, then fold in remaining whites gently but thoroughly. Pour batter into baking dish and bake in a water bath until puffed and golden-brown, 40 to 50 minutes. Cool slightly, 10 to 15 minutes.
The Epicurious version recommends raspberries with maple syrup, but I stewed some blueberries with lemon and sugar and they were delicious!
Kim Bayer is a freelance writer and culinary researcher. Email her at kimbayer at gmail dot com.