Posted on
Wed, Nov 2, 2011 : 8 a.m.
Butterscotch pumpkin pudding - the hardest part of the recipe is waiting to eat it
By Mary Bilyeu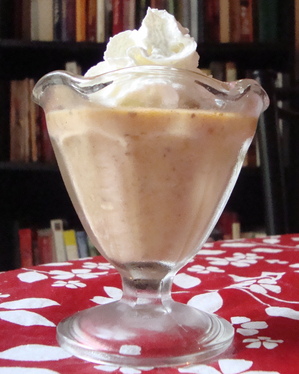 Mary Bilyeu | Contributor
After happily eating my way through Ypsilanti a few weeks ago at the
Grub Crawl
, I wanted to make a pudding of my own that was reminiscent of the spicy, creamy sample offered at the
Corner Brewery
.
Homemade pudding takes virtually no effort to make, just a few minutes of standing while stirring it on the stovetop. The hardest part of the process is simply waiting for the pudding to chill and set before you can eat it!
This is an exceptionally perfect dessert for fall, and would make a lovely offering at Thanksgiving, too, if you're thinking that far ahead; simply put the entire batch into a decorative bowl and let it chill completely; then people can help themselves to individual servings.
Butterscotch Pumpkin Pudding
2 tablespoons cornstarch
1/4 cup sugar
pinch of kosher salt
1/2 cup water
3/4 cup half-and-half
1 egg
1/4 teaspoon vanilla
1/2 teaspoon cinnamon
1/4 teaspoon nutmeg
1/4 cup butterscotch chips
1/3 cup pumpkin puree
In a medium saucepan, combine cornstarch, sugar and salt; add water and bring to a boil over medium-high heat, whisking to remove lumps. When the mixture becomes thick and translucent, turn heat down to medium-low.
Combine half-and-half and egg; add slowly, whisking constantly. Stir in vanilla, cinnamon and nutmeg; cook, stirring constantly, for 5-7 minutes until thickened. Stir in butterscotch chips until melted and mixture is smooth. Stir in pumpkin.
Divide pudding among 4 dessert glasses, and cover with plastic wrap. Refrigerate at least 4 hours to set.
Serve chilled, topped with whipped cream.
Makes 4 servings.

Mary Bilyeu has won or placed in more than 60 cooking contests and writes about her adventures in the kitchen. She was thrilled to have her post about Scottish Oatmeal Shortbread named as one of the daily "Best of the Blogs" by the prestigious Food News Journal.
Go visit Mary's blog — Food Floozie — on which she enthuses and effuses over all things food-related. Her newest feature is Frugal Floozie Friday, seeking fun and food for $5 or less ... really! Feel free to email her with questions or comments or suggestions: yentamary@gmail.com.
The phrase "You Should Only Be Happy" (written in Hebrew on the stone pictured in this post) comes from Deuteronomy 16:15 and is a wish for all her readers as they cook along with her ... may you always be happy here.