Posted on
Sun, Dec 11, 2011 : 10:13 a.m.
By The Pound wins BestOf honors for best specialty market; this week vote in two entertainment contests
By AnnArbor.com Staff
What is the best non-ethnic specialty market in Washtenaw County? The voters in AnnArbor.com's BestOf contest say it's the By The Pound, which won first place this past week.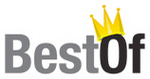 Best non-ethnic specialty market voting began last Sunday and ended at 11:59 p.m. Saturday. Early in the week,
Sparrow Meats and Produce
was in a close race with
Zingerman's Delicatessen
. However, by mid-week, By The Pound rose into the top three positions. By the close of the contest,
By The Pound
finished in the No. 1 position with 66 votes, Zingerman's Delicatessen finished in second place with 30 votes. Sparrow Meats and Produce finished in third place, trailing Zingerman's by just one vote.
This week, we have two contests for you to weigh in on.
According to a certain famous playwright, "All the world's a stage, And all the men and women merely players." But sometimes you want to forget your own drama and immerse yourself in some well-acted stagecraft. Ann Arbor is chock-full of theater companies and places to enjoy them. This week you can vote for both Best Stage Performance Group and Best Venue for Live Theater or Show.
Best Venue for Live Theater or Show
Readers can suggest contenders for upcoming contests by going to http://www.annarbor.com/bestof/#bestof_schedule.
And don't forget, everyone who votes will be entered into a drawing each week for a chance to win a prize. This week's prize is for a $50 gift card.