The coney chronicles continue: Going on the road to find Michigan's best dogs
Posted on Tue, Apr 17, 2012 : 10:22 a.m.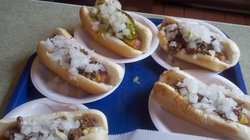 photo by John Gonzalez

MLive, AnnArbor.com's statewide partner website, recently launched the Michigan Coney Dog Project to track down the best versions of this uniquely Great Lakes State delicacy.

MLive reporter John "Gonzo" Gonzalez will take a three-day tour of nearly 20 coney places in the state, beginning Wednesday. He'll be accompanied by Joe Grimm, the guy who wrote (well, co-wrote) the book on Michigan coney dogs.

They'll make two taste-testing stops in Washtenaw County: 3 p.m. Wednesday at Bill's Drive In, 1292 E. Michigan Ave. in Ypsilanti; and 4 p.m. Wednesday at Mark's Midtown Coney Island, the Ann Arbor north location at 3586 Plymouth Road in the Plymouth-Green Center. Fans of either place, or just of coneys in general, are encouraged to come out and share in the fun.

The local stops were determined by voters in an online poll to find the best coney dog in Washtenaw County that drew more than 800 votes—as well as the predictable debate in the comments section on what exactly qualifies as a coney dog.

Gonzalez will chronicle each visit on his "Going Gonzo" blog, and AnnArbor.com will be on hand to document the local stops.

Gonzo plans to name the winner on Tuesday, April 24.