Posted on
Tue, Oct 30, 2012 : 11 a.m.
Candy corn cake - colorful cake with rich buttercream frosting perfect for Halloween
By Mary Bilyeu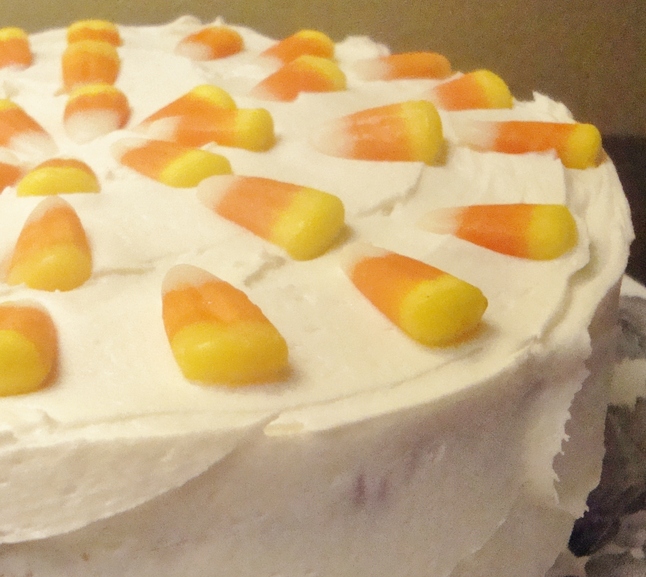 Mary Bilyeu | Contributor
Today is
National Candy Corn Day
, a celebration of the cute little candies that only make their annual appearance at Hallowe'en. They're bright, they're festive, and it's easy to eat too many of them.
I find that people tend to either love or loathe candy corn; I happen to like it. I'm not necessarily proud of that, but it is what it is. I like cheesy songs from the 70s, too. It balances out my geeky tendencies, like reading essays about grammar... by choice.
In addition to the recipe below — featuring a stellar buttercream frosting to cover the vividly colored cake — here are some other Hallowe'en ideas:
Jack-o'-Lantern Pizza Hallowe'en Dipped Marshmallows Sweet 'n' Salty Caramel Corn Mix Jack-o'-Lantern Cheeseburgers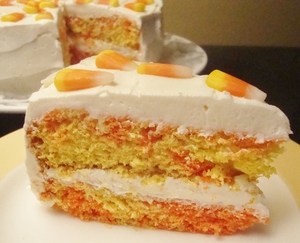 Mary Bilyeu | Contributor
Candy Corn Cake
Cake:
3/4 cup butter, softened
3/4 cup sugar
3 eggs
1 teaspoon vanilla extract
1-1/2 cups flour
2 teaspoons aluminum-free baking powder
3/4 teaspoon kosher salt
1 teaspoon yellow food coloring, divided
1/4 teaspoon red food coloring
Frosting:
(recipe by Gale Gand)
1 cup butter, softened
1 teaspoon vanilla extract
3 cups confectioners' sugar
2 tablespoons milk
4 ounces candy corn
Preheat oven to 350 degrees. Grease two eight-inch round cake pans; line bottoms of pans with foil and grease the foil.
In a large bowl, using an electric mixer, cream together the butter and sugar. Add the eggs one at a time,and then beat in the vanilla. Gently fold in the flour, baking powder, and salt. Divide batter into two bowls; add 1/2 teaspoon yellow food coloring to one bowl and stir to blend until batter is yellow. Combine 1/2 teaspoon yellow food coloring and the red food coloring to the other bowl, stirring to blend until batter is bright orange.
Place dollops of each batter into both cake pans, then swirl the batters together a bit. Bake for 20-25 minutes until a tester inserted into the center of the cakes comes out clean. Let rest for 10 minutes, then turn cakes out onto a rack to cool completely. Remove the bottom layer of foil.
Make the frosting: In a large bowl, using an electric mixer, combine the butter and vanilla extract. Slowly beat in the confectioners' sugar, then add milk. Continue beating 'til frosting is the desired consistency.
Place one cake layer (the least attractive one) upside down onto a serving platter; tuck strips of waxed paper underneath it, covering the edges of the platter, to keep the platter clean. Spread 1 generous cup of the frosting over the cake, just to the edge, then top with the other layer right-side-up. Spread top and sides of cake with remaining frosting, then decorate the top of the cake with the candy corn.
Makes 12 servings.

Mary Bilyeu writes for AnnArbor.com on Tuesdays, Wednesdays, and Fridays, telling about her adventures in the kitchen - making dinner, celebrating holidays, entering cooking contests, meeting new friends ... whatever strikes her fancy. She is also on a mission to find great deals for her Frugal Floozie Friday posts, seeking fabulous food at restaurants on the limited budget of only $5 per person. Feel free to email her with questions, comments, or suggestions: yentamary@gmail.com.

Go visit Mary's blog — Food Floozie — where she enthuses and effuses over all things food-related; and look for her monthly articles in the Washtenaw Jewish News. "Like" her on Facebook, or send a tweet on Twitter, too.

The phrase "You Should Only Be Happy" (written in Hebrew on the stone pictured in this post) comes from Deuteronomy 16:15 and is a wish for all her readers - when you come to visit here, may you always be happy.