Posted on
Mon, Jun 27, 2011 : 4:05 p.m.
Grilled Fresh Mozzarella, Tomato and Pesto Sandwich big enough to feed two
By Peggy Lampman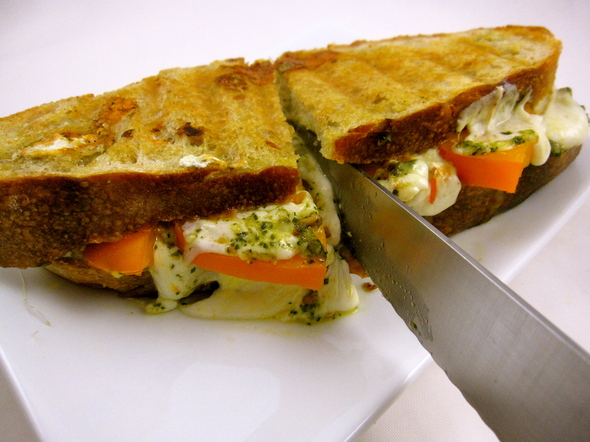 Peggy Lampman | Contributor

Peggy Lampman's Monday dinnerFeed
I'm not sure exactly what round of bread I purchased from Cafe Japon at the Farmers Market, but it is wonderful. I believe she said it was a whole wheat sourdough (it tastes as such), and the flavor, crust and chew is divine. I saved a couple of center pieces to make one big panini sandwich; large enough to serve myself and husband with a side salad.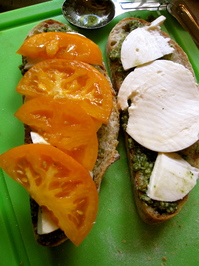 I
made
pesto
on Friday and purchased mozzarella (a large ball runs from $5-8 dollars, depending on weight) from
Zingerman's
. I love the salty, creamy flavor of this local specialty. I've noticed Zingerman's is teaching classes on making this cheese; sounds like a savory way to spend an afternoon.
Yield: 1 large sandwich
Active Time: 10 minutes (if pesto is already prepared)
Grill Time: 15-20 minutes
Ingredients
2 tablespoons prepared pesto 2 large pieces artisan bread, center cut (approx. 8 inches long by 3 inches wide)
4 slices fresh mozzarella round, cut, if necessary, to fit bread
1 tomato, slice and cut pieces to fit bread
Directions
1. Spread 1 tablespoon pesto on each side of bread.
2. Evenly divide cheese over pesto on both sides of bread. Arrange cheese slice over both sides of bread. Place tomato slices on top of one piece of bread. Put bread together to made a sandwich.
3. In a heated oiled or buttered skillet, panini press or George Forman grill, grill sandwich until cheese is melted and bread is lightly toasted. (I grilled my sandwich on a Forman at 375 degrees about 15-20 minutes.)

Looking for a specific recipe? Click here for dinnerFeed's recipe search engine; type the recipe or ingredient into the search box. I am a real-time food writer and photographer posting daily feeds on my website and in the Food & Drink section of Annarbor.com. You may also e-mail me at peggy@dinnerfeed.com.