Posted on
Tue, Nov 15, 2011 : 8 a.m.
Cardamom-scented Chaldean shortbread cookies a rich, crumbly treat that pairs perfectly with a hot beverage
By Mary Bilyeu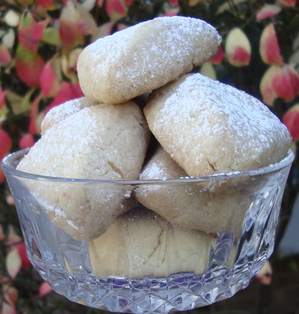 Mary Bilyeu, Contributor
I don't usually take vacation days for fun, except for Jeremy's and my birthdays. It seems I'm always using them to take loved ones to appointments, or for other utilitarian activities, rather than amusing myself.
So I recently decided to treat myself to a half-day of vacation to do something most entertaining: I went to the Jewish Book Festival to learn about Chaldean [kal-DEE-un] cooking. Chaldeans are Iraqi Christians, and the Detroit area is proud to be home to one of the group's largest communities in the world.
Friends of mine, Shira and Steve Klein, own Huron River Press which has published the gorgeous cookbook Ma Baseema: Middle Eastern Cooking with Chaldean Flair. The book was being featured recently at a lunchtime event at the festival, advertised for maximum temptation:
"Guests will enjoy a taste of a culture that has one of the world's oldest cuisines, dating back to ancient Mesopotamia. This culinary journey will show the essence of Chaldean food and delight the palate with a tempting collection of recipes ranging from soups, appetizers, salads, main-course dishes, breads and desserts."
Well how could I resist learning about this fascinating culture and its cuisine, as well as getting to taste samples of the fabulous food?
When I walked into the room, not only did I find many of my friends; I also found an extraordinary sensual experience — seductive aromas and gorgeous colorful salads on display. I knew this was going to be a good time!
Our charming hostesses, Gloria and Lillian, gave a brief history of their community, spoke a bit of Aramaic for us (with some similarities to Hebrew noted), and demonstrated great pride in their culture and cooking. Chaldeans are famous for hospitality and for close-knit extended families; and one way in which their bonds are forged is through food.
"Ma baseema" means "how good it is!" And each item we tasted — from the eggplant and peppers with pomegranate seeds, to the traditional Iraqi salad of chickpeas with tomatoes, cucumbers, beets and onions, to the vegetarian grape leaves cooked in a bright lemony sauce — was amazingly delicious. The flavors are simple and yet complex, familiar and yet exotic, each bite offering hints of new tastes.
This cookbook isn't filled simply with one person's recipes. Rather, the community hosted a cook-off judged by three area chefs with no ties to the Chaldeans, such that there would be no hint of preference or discrimination (i.e.: "This is/isn't how my grandmother made it."). Each recipe, therefore, is not only representative of the cuisine, but it was deemed the best example of a particular dish.
Proceeds from the sale of Ma Baseema are being donated to the Chaldean American Ladies of Charity (CALC), an organization which serves the community in many ways. In recent years, much of the group's efforts have been focused upon resettling Iraqi refugees who have found a home here in Michigan.
I cannot recommend this cookbook highly enough! The presentation is beautiful, and the recipes and dishes are unbelievably delicious. The cookies below are rich and crumbly with just a hint of spice shining through; they're perfect to serve with coffee or tea.
Ma baseema — how good it is — indeed!
Cardamom-Scented Shortbread Cookies
(Very slightly adapted from Nadira Thweny's recipe for "Sugar Cookies/Shekar Bureghi" featured in Ma Baseema.)
3 cups flour
1 cup sugar
1 teaspoon ground cardamom
1/2 teaspoon kosher salt
2/3 cup melted butter
1/3 cup extra-virgin olive oil
Preheat oven to 350 degrees. Lightly grease a cookie sheet.
In a large mixing bowl, combine the flour, sugar, cardamom and salt. Combine the butter and oil, and add to the dry ingredients; mix until the dough is crumbly.
Form lumps of dough the size of a golf ball.

Shape the dough into triangles. (It's crumbly, so just futz with the dough until it does what you want. There's no trick to it — you'll get the hang of it!)

Place the triangles onto the prepared cookie sheet and bake for 20-25 minutes until lightly golden. Repeat until the dough is used up.
Makes 36 cookies. Lightly dust them with confectioners' sugar for presentation, if desired.

Mary Bilyeu has won or placed in more than 60 cooking contests and writes about her adventures in the kitchen. She was thrilled to have her post about Scottish Oatmeal Shortbread named as one of the daily "Best of the Blogs" by the prestigious Food News Journal.
Go visit Mary's blog — Food Floozie — on which she enthuses and effuses over all things food-related. Her newest feature is Frugal Floozie Friday, seeking fun and food for $5 or less ... really! Feel free to email her with questions or comments or suggestions: yentamary@gmail.com.
The phrase "You Should Only Be Happy" (written in Hebrew on the stone pictured in this post) comes from Deuteronomy 16:15 and is a wish for all her readers as they cook along with her ... may you always be happy here.